DECA to Send 14 Students to Nationals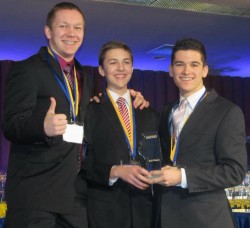 After participating in the state competition Thursday, March 8 through Saturday, March 11 in Decatur, IL, 14 DECA students qualified to go on to the National competition Friday, April 27 through Tuesday, May 2 in Salt Lake City, Utah.
40 students were taken to State. The 14 who qualified for Nationals  are  sophomore  Smita Jain; juniors Robert Urosev, Cody Inglesby, Joel Nelson, Aid Idrizovic, Tezen Matthew, and Sneh Sukhadia; and seniors Elisabeth Troyk, Ben Truong, Shawn Cherian, Bogdan Ilinescu, Geo Furman, Stephanie Younan, and Jay Shah.
DECA sponsor Eric Lueder feels that the kids have worked hard and some projects could potentially make it to the top 10.
"A number of the projects have a reasonable chance of winning. Our kids have worked hard," Lueder says.
40 percent of the students taken made it to Nationals. Lueder's aspirations are making it to the top 10, which allows kids to obtain medallions and recognition. Top 3  involves scholarships and travel opportunities. Lueder says the students are looking at the judges' feeback and are fixing their business  projects to make them better.
Sophomore Smita Jain, whose DECArations flower project won third place, is very pleased with her group's project's success.
"The countless hours that we put in during each of the sales helped this project be as successful as it is. The incessant support of our advisors…. helped keep this project running. Also, our flowers were of very high quality, so they sold themselves when people saw them," Jain says.
14,000 students from all over the world will be competing.
" Only 5 groups in 17 years have placed in the top 3….. it's not going to be easy," Lueder says.
"[We] are striving for top 10 at Nationals. We know how difficult it is to place at Nationals, but we'll definitely give it our best," Jain says.