Homecoming Theme Goes Unchanged Despite Dissent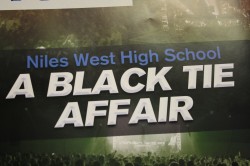 Despite dissent about the Black-Tie-Affair theme, the annual Homecoming game and dance are scheduled for Saturday, Oct. 23. Tickets, which go on sale today, are $20 a person and $38 a couple.
As usual, the theme was chosen by the Homecoming Committee, but many students and committee members said the theme isn't the best.
"I'm on the Homecoming Committee and [the theme is] okay, but it could have been better. We've had better in the past," said sophomore Selina Montero.
A few seniors on the Homecoming Committee who wanted an Alice in Wonderland theme even started a petition against the Black Tie Affair theme.
"The black tie affair seems so overplayed. It seems like the theme every year is to stay classy and Alice in Wonderland would've been so great. We could've had great decorations," said senior Joanne Kwak, one of the students who started the petition.
According to the NWN poll, 73 percent of the 230 voters do not like the Homecoming theme.
Senior and student body president Nick Flatley said if students disagree with the theme, they should get involved with the Homecoming Committee.
"Every year the Committee puts our dance together. They put their time and hard work into the dance and therefore it's only right that they decide the theme. Signing a petition to change the theme is a waste of your time," he said.
The theme was chosen randomly, according to math instructor and Homecoming organizer Kathie Kajmowicz.
"We came up with this idea by just shouting random ideas out and ending up picking from a hat," she said.
In addition to the theme, there are a couple of changes to Homecoming this year, including the location of refreshments and the coat room.
"We are organizing the jackets in the commons so that [the line] can move faster. We will set [refreshments] up in the wrestling gym, where we will include not just variety of snacks," said Mary Kate McCarte, chef's course teacher and an organizer of Homecoming.
Besides these changes, everything else will be very similar to last year.
"The DJ and the setup will be similar but better," Kajmowicz said.
The Homecoming weekend festivities are similar to last year as well. On Friday night, there will be a float party in which the floats will be decorated and a DJ in the student parking lot. The Homecoming Parade through Downtown Skokie is on Sat. at 11 a.m., and the Homecoming game is at 1 p.m. The Homecoming dance will start at 7:30 p.m. and last until 10:30 p.m.
Maridsa Choute, Rachel Dimayuga, Lizbeth Carillo, and Isabelle Davis contributed to this article.