W.Y.S.E. Team Places Sixth at State
By Mara Shapiro
April 19, 2012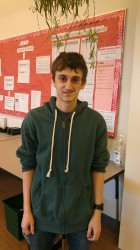 The W.Y.S.E( World Youth in Science and Engineering) team won sixth place out of fifteen schools at the State competition Thursday, April 5 at the University of Illinois Urbana-Champaign.
Students who won medals are junior Patrick Liscio(first place in Mathematics), senior Alex Makeyev(second place in Engineering Graphics),  senior Marc-Daniel Julien(fifth place in Computer Science), senior Michael Nissan(sixth place in Computer Science), and junior  Andrew Kim(sixth place in Mathematics).
Physics teacher and coach Martha Lietz is very proud of her team and its placement.
"I am very proud of this year's team.  This is the strongest finish we have had in 10 years.  The students did a lot of work outside of school and during practices to get themselves ready for the competition.   And there are several students who had outstanding performances and their scores really brought our team score up," Lietz says.
Junior Patrick Liscio, who won first place in Mathematics, is pleased with his team's success as well.
" I'm very excited about the team's success at the competition. Last year, only three of us got to go to state, and it was nice that this year, we not only brought the whole team, but were able to finish in 6th place…. but I'm really excited to have won[first place in Mathematics] and am looking forward to trying again next year," Liscio says.
The team is comprised of sophomore Smita Jain; juniors Patrick Liscio, Sheryl Cherian, and Andrew Kim; and seniors Alex Makeyev, Marc-Daniel Julien, Michael Nissan, Felix Angelov, Vikram Shah, Celine Ledesma, Alberto Rios,Akshar Kumar, and Andrew Rapoport. The team is coached  by Lietz and math teacher Matthew Fahrenbacher.
Liscio feels that the team's success was due to the devotion to practice.
"Overall, I think that the practice paid off for the team, and I think what made us so successful was that we were competitive in every event instead of just a few. We also got a lot of support from our coaches," Liscio says.
Junior Sheryl Cherian, who participates in the English and Biology competitions, feels that the team's efforts this year have really shown progress.
"Usually, we have three or four individuals that qualify to State based on their first or second-place scores at Regionals, but the entire team was able to pull 3rd place at Regionals and win the wild card, meaning we had the highest score of all of the 3rd place teams in the State. We beat Evanston, which was a big deal because they have consistently beat us in the past," Cherian says.
Even though the team placed 6th, Lietz still sees room for improvement.
"There are several topics where we could really bring up our scores and hopefully improve our performance next year.  But since this school no longer teaches Engineering Graphics, we won't be able to compete in that category next year.  This is unfortunate because we have had top or perfect scores in those categories for several years now," Lietz says.