19-4 Wolves Baseball Lose to New Trier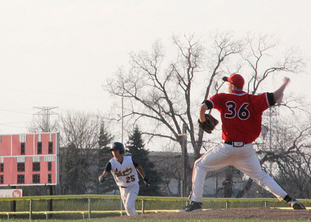 By Nick Goldwyn
April 27, 2012
When Niles West faced up against conference rival New Trier last night at Jim Phipps Field, the temperature was just a hair over 40 degrees; the Wolves bats were almost as cold as the frigid spring air, which eventually led to a 1-0 loss to the Trevians.
Both teams pitched well and stranded most of the runners that got on base, but the Wolves sloppy play (four errors in the game), and more than a few questionable strike calls cost them the game.  With all things considered, head coach Gary Gustafson said he was happy with the team's performance.
"We battled through all seven innings and competed well against a quality team," he said.  "We played well defensively and our pitching was good, but in the end, we came up a bit short."
The only run of the contest was scored in the top of the first inning as New Trier struck first. For the next four innings, the teams traded strike out for strike out, and only racked up two more hits each.
The Wolves and Trevians both stranded runners in the top of the fifth, and New Trier stranded another in the sixth, but West went 1,2,3 in that same inning, so it was on to the seventh with any hope for victory.
In the top of the seventh, the trend continued as the Trevians stranded another runner. The Wolves half of the final inning was a bit more interesting.
After getting a strikeout to start the inning, West got a man into scoring position on a bad throw to first base. From there though, the Wolves hopes of a comeback win were killed by some questionable strike calls.
The Wolves' second out came on a called third strike that didn't sit to well with West's bench, or the third base coach, and the game ended when senior Quinn Winkler struck out looking on a horrible pitch to end the game.  Still, Gustafson wasn't too concerned with the Umpire's calls.
"You can't let strike and ball calls effect the outcome.  In situations like these, we just try and focus on what we can control on the field," he said.