Math Team Makes it to State
By Alyssa Guzman
May 3, 2012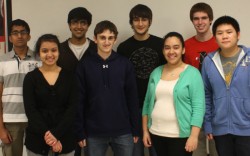 Math teacher and  head coach Bob Nortillo will be taking the Niles West Math Team to the University of Illinois in Champaign for the State competition Saturday, May 5.
At the event, there will ten competitions to partake in, including individual tests and team based competitions with two, five, or eight people.
At regionals, the team qualified for three events: senior Michael Nissan and junior Patrick Liscio will be competing in the two person team division that has been coached by math teacher Tayyaba Ahmad. They will also be competing in the eight person team division along with seniors Akshar Kuman and Zoya Momin, Rishy Chacko, and juniors Rudy Newman, Theo Troung, and Colleen Persaud. Liscio and senior Temesgen Gebrekristos, who has been coached by math teacher Jamie Krzeminski will also be partaking in an individual written competition for Algebra II. Last year, Liscio placed first in the individual written competition for Geometry.
Assistant coach and math teacher Matthew Fahrenbacher has high expectations for both the two and eight person team.
"I think we have a good chance to win State with the eight person team," he said.
As for the two person team, Fahrenbacher hopes to have Liscio and Nissan make it to the final four.
Nissan has similar expectations for the team.
"I expect that the team will be very successful this year, largely due to the participation of Patrick Liscio… The team is lucky enough to have him around next year as well, since he is a junior."
Nissan views his last State competition with the math team as bittersweet.
"I have been lucky enough to qualify for the state competition every year of high school.  I've always looked forward to the state contest because of the time that I get to spend with some great people from Niles West.  It's always a lot of fun, especially when Mr. Nortillo shows off his master frisbee skills."
Nortillo and Fahrenbacher have been preparing the team for State since early February in hopes of making it to Nationals and beating their four biggest competitors: the Illinois Mathematics and Science Academy, Naperville North and Central, and Evanston Township High school.