Bass Fishing to Make a Splash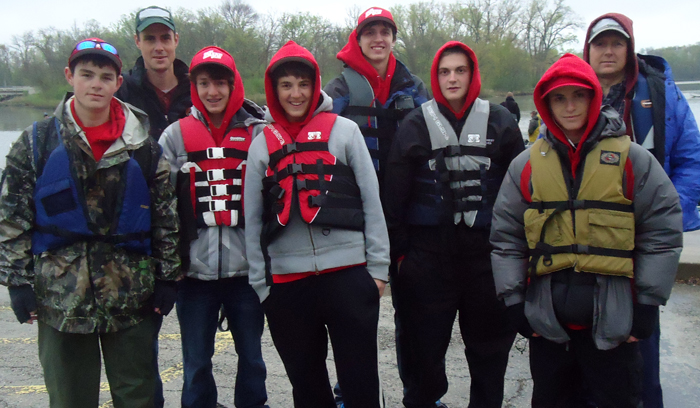 By Danny Thompson
May 29, 2012
Niles West has many popular sports and activities, but there is another that will soon be making a literal splash.  This past year, Niles West High School adopted the sport of bass fishing.
Bass fishing has been a very successful sport at Niles North for a few seasons, but this past year interest was shown here at West as well.
"Mr. [Tim] Richmond came in to me and said kids knew about it [at North] and asked for a team," explained athletic director David Rosengard.
The current team consists of Nathan Celinski, John Sullivan, Jeremy Kaliel, Momcilo Bicanin, Marko Bicanin, and Ryan Rzadzki.
Boats are volunteered by students or sponsors for a one day sectional in April at Skokie Lagoon.  Teams are limited to two boats with two student athletes each and one coach.
"It's a one-day season and you can practice all you want for it.  You can catch up to five fish and it's the total weight of the fish that counts.  The winning school caught four fish," Rosengard said.
The top three schools from each sectional move on to a state competition in Carlyle, IL.  This year Niles North qualified for state by finishing second out of 21 schools at sectional.
It's a tough sport and many hours on the water can lead to little success, as Rosengard pointed out, "We've caught one fish so far, and that was in practice."
Bass fishing is unlike many other sports because most of the equipment is provided by nature itself.  "It's just a matter of finding the boat," Rosengard said.
According to coach Timothy Richmond, the team's main goal for next year is to qualify for the state tournament.  As far as the next few years go, the team is hoping to have a full complement of eight students for next year's sectional, in addition to continuing to practice fishing and boating techniques.
The sport has just finished its first season at West and is hoping to expand its team and fan base over the next few years by generating more interest in the sport of fishing. It has a bright future, as many other schools are showing interest in a fall competition in addition to the spring sectional, Rosengard said.
"I see some fun potential to this thing," Rosengard said.