Gymnasts Succeed at State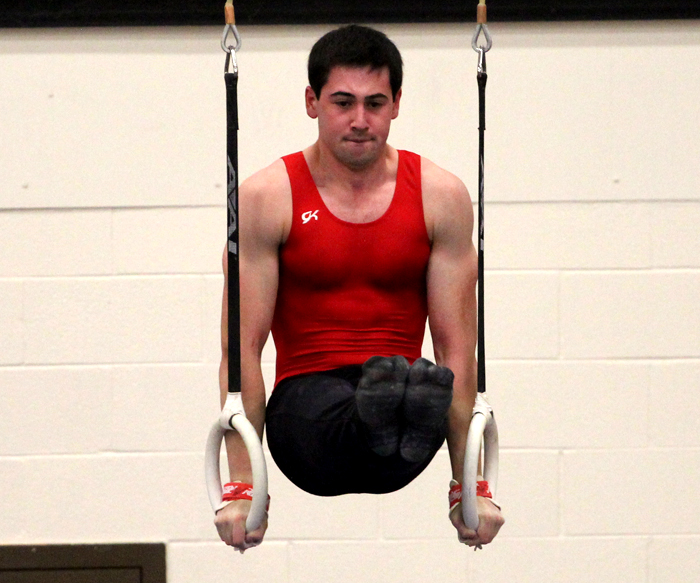 By Nick Goldwyn
May 15, 2012
Unlike the last time senior Josh Nicolasin was at Lincoln Way East (when the still rings broke at the beginning of his routine), there were no equipment malfunctions last Saturday afternoon.With fully functional rings, Nicolasin made state finals on rings, the first Niles West guys gymnast to make state finals since 2008.
The other four state qualifying gymnasts excelled in each of their respective events, but all came up just short against a stellar crowd of competitors.
Both senior captain Ari Lazar, and senior Brent Quimosing scored 7.95 on Pommel horse. Sophomore Timmy La scored a 7.3 on horse, and senior Casey Mahoney Muno scored 9.25 on floor.
Everyone preformed well, but it was Nicolasin who stole the show. He  scored an 8.75 on rings, and qualifyied for the state finals held later that day. Nicolasin then scored an 8.25 during the state finals and finished 10th in state.
Head Coach Adrian Batista said that the team preformed extremely well overall.
"They did fantastic, Josh Nicolasin qualified for state finals on rings, he's the first Niles West gymnast to do that since 1993, and he's now the 10th best in state on rings. Ari (Lazar) had a very tough routine but still preformed well, and overall I was very impressed with everyone that competed. They all did great"
Later that day Lazar added that he was proud of the entire team for their hard work effort and dedication.
"The team is really proud of Josh for making state finals. Overall, we all did pretty well, and it just goes to show that with hard work and dedication you really can do anything. I would also like to take this time to thank all the fans, family, friends, and other Niles West gymnasts who came out and saw us compete, it means a lot," said Lazar.