R.I.O.T. Club Rocks on Tuesdays After School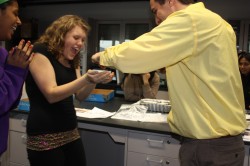 You've seen the ads on the morning announcements about the club that blows stuff up. Well, now you could be a part of all the action.
R.I.O.T., Researchers and Investigators of Tomorrow, is the perfect club for students who like to really think about what and why things are.
"It's just freaking awesome!" says sophomore Jawairia Nagani.
A large room with two entrances, many lab tables, and a flat-screen TV, the STEM lab makes you feel smarter the second you walk in it. On Wednesday, Oct. 20, the R.I.OT. Club met in the STEM lab and made challenges for the school's Minute to Win It games. They used a huge variety of household items: pipe-cleaners, marshmallows, cotton swabs, food coloring, marbles, bouncy balls, trash cans, and more.
"I think it's pretty fun because you can do pretty much whatever you want with your imagination," says sophomore Brian Castillo.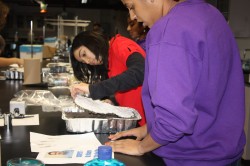 This new club is sponsored by science teachers Mike Heinz, Jayson Foster, and Andy Klamm and meets every Tuesday in the STEM lab after school.  Why are there three sponsors? Because R.I.O.T. club is offered to everyone with different levels of experience, and each sponsor can help you with what you need. This is Niles West's first year with a R.I.O.T. Club, but Niles North has had one for about 20 years.
Only one meeting in, and R.I.O.T. had already worked for a good cause. Researchers from Northwestern University visited, and R.I.O.T. helped them make electrosurgical instrument testers. Electrosurgical instruments are scalpels with lasers in them to help surgeons tell how deep to cut. The club made the kits for an organization called Engineering World Health, which sells them to third-world countries for $15-$20. High-tech testers can cost $2000.
According to Klamm, the students who attend R.I.O.T. Club can be described both as nerds and fun-lovers. So if you have a love for knowledge or want to learn to be a better scientist, join the Researchers and Investigators of Tomorrow.