Niles West Theatre Schedule 2012-2013
By Mara Shapiro
June 12, 2012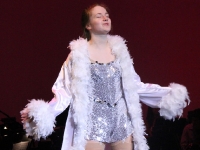 Niles West Theatre has announced its 2012-2013 season.
The productions that theatre will be showcasing are "The Laramie Project," "The Musical Adventures of Freddie the Frog," "The Importance of Being Earnest," "Joseph and the Amazing Technicolor Dreamcoat," and the annual Director's Studio show.
Junior Emma Zivkovic is pleased with the selections.
"I'm really happy with the next year's shows because they are very different than this year's. The reason why is because the theme is focusing around the identity of an individual. I think this is great because we will get to reach out to the audience in an amazing way, like in "The Laramie Project" which deals with hate crimes, specifically towards homosexuals. I believe this will be a learning experience for the cast and the audience as well," Zivkovic says.