Lakeshore Evanston Arts Festival Paints a Beautiful Picture
By Mara Shapiro
August 13, 2012
Hang on for a minute...we're trying to find some more stories you might like.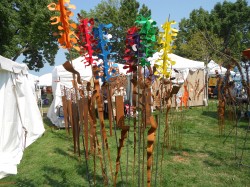 I first found out about the Lakeshore Evanston Arts Festival a few years ago when my sister's best friend's mom told my family to come check out her pottery tent. I was amazed by all the artists' unique works, the delicious food, and the ear pleasing music. This year was no different.
Held in Dawes Park, right near Lake Michigan, there were rows upon rows of various tents filled with beautiful jewelry, paintings, pottery, and even articles of clothing.  Typical paintings of landscapes and people are present, but there are some pretty kooky creations thrown in the mix as well.  For example, one tent boasted a collection of "fairy doors." That's right, fairy doors. They're literally little doors carved into wood for fairies. It's nice to see out-of-the-ordinary items sold because that's one thing you probably won't see at the Art Institute of Chicago. Lawn decorations, like banana-shaped seats, were also on sale. I think one of the coolest aspects of the festival is that you can communicate with the artists. They sit on a little fold-out chair and are very eager to talk with anyone who wants to admire their work. Plus, not everything is super expensive. Yes, the paintings can be a bit pricey, but if you want a pair of earrings or a cute bracelet, those can be sold for only $5 each.
Besides the wonderful artwork, there is also a very cultured ambiance filling the air. In the middle of the rows of tents, there is this  beautiful duck pond with a fountain. People sit near the edge of the water eating and listening to the bands or singers only a few feet away from them. When I went with my family a few years ago, there was a band of kids from a real life School of Rock playing old 1970s and 80s rock songs. I was really hoping that they would show up again, but a jazz vocalist with a beautiful voice came to show off her talents instead. To just sit down on a beautiful day and listen to jazz isn't something I normally do, but it fit the mood. In addition to the music, there is amazing food! Mustard's Last Stand was serving hot dogs and nachos, there was an Italian ice stand, a smoothie stand, a Greek stand, and a few other concessions stands as well.
I really loved the location of the art festival. Dawes Park is huge, plus you can hit the beach if you want to cool off. The only con is that it can get crowded, and maneuvering through the tents can be an annoyance. Overall, I love the festival. It's a great way to view beautiful art without having to pay to get into a museum, and it's nice way to hang out in downtown Evanston with friends. I would recommend anyone who loves art or who is just looking to get out of our local suburbs to go check it out! The Lakeshore Evanston Arts Festival was held on Saturday, August  4 and Sunday, August 5 in Dawes Park.