Local Carnivals are Wild Rides
By Mara Shapiro
August 27, 2012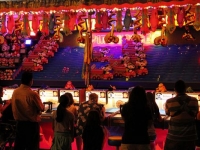 One of my favorite activities in the summer is attending all of the local carnivals. You get to eat fattening funnel cakes and fried twinkies, sip over-priced lemonade, and threaten to never speak to your best friend again after she makes you go on the scariest ride in the place. The three suburbs that offer carnivals are Morton Grove, Skokie, and Lincolnwood. If you were out of town or just too busy to attend any of these, I will fill you in on my experiences and perspectives.

Morton Grove Days-  Normally Morton Grove holds a crowd pleasing carnival,  but this year  the pizazz has decreased considerably with All Around Amusement as the host instead of Windy City Amusement from a few years ago, but the fan favorite Pharaoh's Fury  swinging boat was still present. This year, there just weren't that many rides and the differences in excitement were considerable. Either there were thrill rides or little kid rides; only the Himalayas or The Sizzler could be considered as go-betweens. I felt sick after  The Sizzler because it changed how it is run. Instead of spinning all the cars around each other, the cars all went in the same direction for way too long at a time. I needed to sit down and drink Gatorade for 30 minutes after, not very fun at all. However, a new ride, Moby Dick, was added. Riders sit in a line while the ride pushes everyone to the side as it increases height. I liked the addition, but I felt that there were too many games and not enough rides this year. I really like the location in Harrer Park because the carnival is about medium sized so that there is plenty of walking space but you can see most rides from any location. I also liked the rock music wafting out of the adults section.  While I liked this carnival, it simply just wasn't the best this year. Morton Grove Days was held Saturday, June 30, Sunday, July 1, Tuesday, July 3, and Wednesday, July 4 in Harrer Park.

Lincolnwood Fest- Last year when I went to Lincolnwood Fest I truly was not impressed. This year, however, it seems like Proesel Park's annual carnival stepped up their game big time.  This is in part because the carnival company that was used was Windy City Amusement, Morton Grove's old company. There were so many more rides at Lincolnwood Fest than at Morton Grove Days. Yes, the Himalayas and Pharaoh's Fury were present, but there was also a regular sized ferris wheel, a ride called the Zipper that had individual carts that moved around like a ferris wheel(but a lot scarier), a  hang glider ride, the Fireball which is like a rollercoaster that spins into an upside down loop, and a ride entitled The Predator which spins people high in the air, and which was my personal favorite at the fest, though it reminded me of my insane fear of heights in combination with high spin velocity.  There were also many little kid rides, just like Morton Grove Days. I definitely think that this carnival had more thrill rides than Morton Grove. It just wasn't as monotonous as a whole. Plus, many more people showed up. The area is great for kids because surrounding the carnival is a park, tennis courts, and a volleyball area. In addition to the rides, there were a few games, but unlike Morton Grove Days,  it seemed like the rides were more of the main attractions. There was also an adult section complete with rock music, and even a few games of Bingo were being held.  An interesting food attraction that the fest had was this little stand called Jester's Juice  that sold gourmet popcorn and flavored lemonade. I just had an overall better time at Lincolnwood Fest than Morton Grove Days; Windy City Amusements did an awesome job! Lincolnwood Fest was held Thursday, August 2 though Sunday, August 5 in Proesel Park.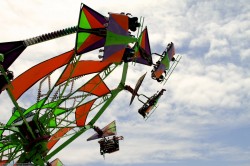 Backlot Bash- Backlot Bash probably draws the biggest crowds because it brings in kids from both Niles West and Niles North's districts.  Essentially, Backlot Bash was Lincolnwood Fest in Skokie.  They shared the same company, Windy City Amusements, and had all the same rides, except Backlot's Ferris Wheel was open instead of closed. I think it's cool that North and West kids go to this carnival together instead of having a majority of one school or the other at a carnival. My personal favorites about Backlot are the location and the dance tent. Backlot is by restaurants like Village Inn, so  if you are bored or tired of Backlot, you are in walking distance of places where one can chill and eat with friends. The dance tent has a DJ spinning various top 40 hits while you and your friends are dancing the night away. Neither Morton Grove Days nor Lincolnwood Fest offer a place to dance.  As for the carnival itself, it really was just like Lincolnwood Fest, except a different location. It's nice to have something fun to do during the first weekend of school, and Backlot accomplishes a good time. Backlot Bash was held  Friday, August 24 through Sunday, August 26.