Best Summer Kick-off: Brad Paisley's Virtual Reality World Tour 2012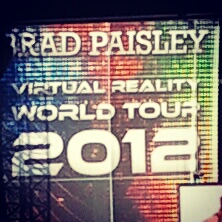 Was it the warm summer air and strong summer sun, the high energy of Wrigley Field overflowing with country fans, or just the idea of attending Brad Paisley's Virtual Reality World Tour 2012 that made the weekend the best possible start to summer break? I don't know, but for whichever reason, this concert was an unforgettable night.
It was another world. Cowboy boots and hats stomped all over Wrigley Field, followed by hundreds of Daisy Dukes and sundresses. It never occured to me how many country fans there actually are, and it felt good to be around people who weren't like, "You listen to COUNTRY music? Why?? It sucks."
From five o'clock to midnight, live country music was performed nonstop. Although it was technically Brad Paisley's concert, it was more of a mini country festival. Performances included Jerrod Niemann, The Band Perry, Chris Young, Miranda Lambert, and of course, Brad Paisley.
At five o'clock, Jerrod Niemann stepped on the stage with jeans, a washed-out blue t-shirt, and guitar in hand. He wasn't given as much attention as he deserved because people were still arriving at the time. However, he sang his classics like  Lover Lover, What Do You Want, and  One More Drinkin' Song. For his time slot, he did a great job entertaining the audience.
When The Band Perry came on, cheers erupted from the crowd as they emerged from backstage. Kimberly's enthusiasm and movement kept the crowd on the edge, always wanting more. The Band Perry had a great setlist as well, playing songs like All Your Life, Postcard from Paris, You Lie, and probably their most famous song If I Die Young.
Perhaps the worst part of the concert was waiting for Chris Young to perform. It took nearly 40 minutes for the stage crew to change the set. Meanwhile, all anxiety to hear him, and of course Brad Paisley later on, built up, and patience no longer existed. When he finally took the stage, the wait was well worth it. He sang Voices, Getting You Home, and my favorite song Tomorrow, among others. At times, his performance bored me; he didn't use the stage as well as he could have, and I didn't know some of the songs he sang. Still, live country music is always good.
Miranda Lambert took the stage after Chris Young, and although I strongly dislike her (and hate her for marrying Blake Shelton), I can't deny that she didn't do a good job. Her sassiness riled up the crowd like no artist before her, and her songs were all pretty upbeat and fun. The best song she sang was Over You, particularly for what it stands for. Even though she sang very well and had an excellent performance, her act lasted too long. I don't like listening to one of her songs, let alone over an hour of her. She also performed with her new group. Graduate Alyssa Alvarez agrees that Miranda Lambert and her trio was a waste of time.
"I'm not a fan [of the trio]. They sounded like chipettes,"  Alvarez said.
When Brad Paisley took the stage though, everything seemed corrected. All of Wrigley Field erupted in cheers, finally able to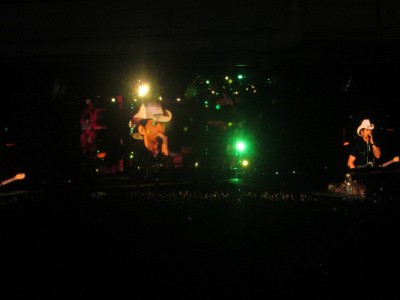 see the man of the night. He opened with his latest single, Camouflage. From then on, I was on cloud nine. His medleys were strategically set, his vocals were perfect all night, and the atmosphere can't be described in words. Everything about his performance defined why country music is as outstanding as it is.
Yes, Brad Paisley is an amazing performer. That's obvious to all. But his music is even better. The fact that he perfected the delivery of his songs so well is beyond me. You can't help but sing along to Welcome to the Future, Water, I'm Gonna Miss Her, Alcohol, and so many more. Not once did he take a break, and his magic kept illuminating the night.
When he started singing Remind Me, it was bittersweet. Perhaps his most popular song includes a Carrie Underwood part, and she wasn't present at the concert. So who would sing it? As the song progressed, and Carrie Underwood's solo came closer and closer, a blonde silhouette kept walking further out on the stage. The thought of 'It has to be Miranda,' was going through nearly everybody's head, but there's no way Miranda could sing it like Carrie. The intro to Carrie Underwood's part started, and we all froze. Then we heard her voice. The two spotlights shined on her like she was a fairy. Yes, it was in fact Carrie Underwood. I didn't think Wrigley Field could make as much more noise as it did when Brad Paisley came on, but I was mistaken. For the rest of the song, she sang flawlessly, hitting every note while looking fabulous. This duet brought tears to some people;  Alvarez even classified it as the best part of the concert. But Carrie Underwood didn't shine for too long. After their song, she left the stage, and Brad Paisley continued singing.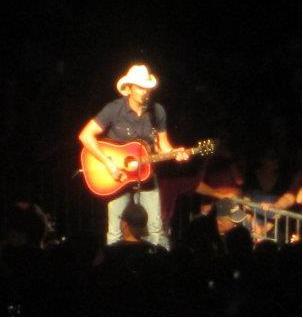 The rest of the night was great. Brad Paisley's animations on the big screen displayed parts of music videos as well as other comical stories. He truly connected with his audience, from the songs he sang to his appearance throughout the night. At one point, he jumped off the stage and started performing on the roof of the Cubs' dugout. The crowd went nuts at this. He even signed one of the many guitars he used during the night and gave it to a member of the fan base.
After this concert, I was left starstruck. Kudos to Brad, Carrie, TBP, Chris, Miranda, and Jerrod for an amazing good time.