A.C.E Hosts Annual Kick-Off
By Mara Shapiro
August 19, 2012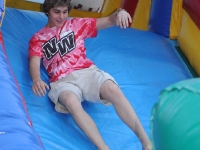 Niles West A.C.E., Athletes Committed to Excellence, hosted their annual kick-off to the new sports season  on Wednesday, August 15  from 5 p..m. to 9:30 p.m. in the Basrak Stadium.
This year's kick-off hosted a moon bounce, an egg toss, and a water balloon toss/fight. Drinks and candy were sold for $1 and pizza was sold for $2. Usually, the kick-off also show a sports related movie, last year's being "The Sandlot," but according to softball coach and A.C.E. sponsor, Nicole Reynolds, a movie was not shown this year because many people would leave before it started or during the viewing.
Senior  A.C.E. president Monika Sosnowka  feels that the kick-off is a great way to socialize before school starts.
"[The kick-off] is a great way to get people together before school starts, especially freshmen. They can socialize."
Reynolds agrees with Sosnowka.
"It's a kick-off to the fall sports season. Kids can hang before school and build team camaraderie."
Some students, like freshman Anna Chlopecki, attended because "[her] friend brought [her]," but an issue that Sosnowka notices is not getting the word out.
"It's hard [organizing] over the summer because people go on vacation," Sosnowka says.
A misconception is that students who are not athletes don't feel that they are allowed to attend.
"Students don't know that non athletes can come," Reynolds says.
Senior Stephanie Swanson said that this year there weren't as many activities as she wanted.
Senior A.C.E. member Andrew Mudreac said that organization is one of the problems that members are working on.