2012 Boys Soccer Preview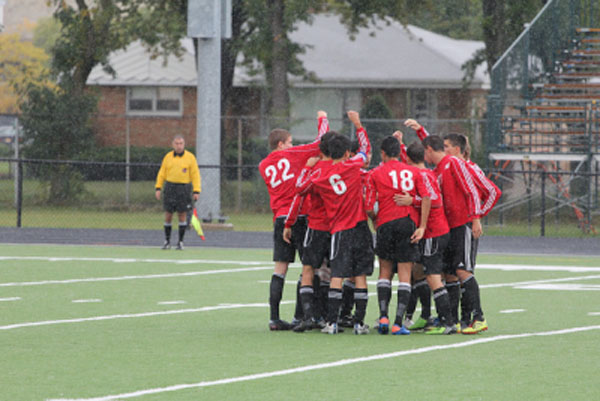 By Dan Poskus
August 27, 2012
The NWN had a chance to talk to Varsity Head Coach Scott Ackman about the season, how they plan to do, and how injuries will affect them.
NWN: How does the team plan to do this season?
Ackman: Well, we plan to do well. They did well over the summer; we only lost two games against very good competition. We're expecting a lot out of them. Unfortunately, we are not healthy. We have played two games, and haven't lost yet, but we have lost two of our captains. We have four players injured right now.
NWN: How will the injuries of Robert Urosev and Robert Ljubic affect the team?
Ackman: Well, they are three year varsity stars. Robert Ljubic might be out for the year. We are not as worried about Robert Urosev, he could be back in a week.
NWN: How does your upcoming schedule look?
Ackman: It's one of the hardest schedules we have ever had. We're in the Pepsi Shootout next week, which is the top tournament in the state, and in the Lake Part tournament starting today (Thursday). So we have eight games against top teams in the next two weeks.
NWN: How do you expect to do in the Pepsi Shootout and the Lake Park tournament?
Ackman: We typicality do well in the Lake Park tournament. We have come in anywhere from first to third in the past three years. The Pepsi is a tough one, we're starting out against St. Charles North, one of the top teams in the state.  If we can get everyone back by next Tuesday, we may be able to give them a run for their money.
NWN: Do you have any goals this season?
Ackman:  Going for conference is always a goal, followed by state.
NWN: What are your team's strengths and weaknesses?
Ackman: It's a pretty senior heavy team and they have been together quite a bit. A weakness would be that we have guys who have never played in the varsity before. So there are three starters right now who've never played on varsity. They are stepping up really well though. Rigo Ortiz has never played goalie for us before and he is doing a great job. Peter Denenberg and Spiro Tsirikolias are starting on defense and they have never done that before and they did great. We tied Evanston last game and they are supposed to be the team to beat so to come out of that with a zero-zero tie is pretty big.
NWN: Who are the teams key players?
Ackman: Sophomore Greg Solowa and seniors Chris Tomuta, Robert Urosev, Robert Ljubic, and Daniel Rosen.