Possible Waste Transfer Station Plan Rejected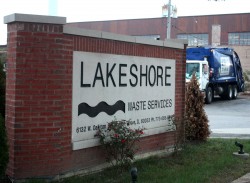 At a Morton Grove Village Board of Trustees meeting, the proposal of a possible "waste transfer station" being built diagonally across the street from Niles West High School was rejected.
It should be noted that "waste transfer station" is just another term for a garbage dump.
On March 12, 2012, the Board of Trustees passed a special piece of legislation which stated that Morton Grove was willing to become a host applicant for this garbage dump. There is a building labeled "Lake Shore Waste Services" by the railroad tracks near Niles West. This building would have been the site of Morton Grove's new garbage dump had a siting application been passed by the village. This specific location is often overlooked and is unknown to most residents. If Lake Shore Waste Services' siting application to the Village of Morton Grove had been approved, then a public hearing would have taken place, and Niles West would have been put in great danger of having a garbage dump in our own backyard. Not only would this have affected citizens of Morton Grove, but also students of Niles West, including athletes who practice outside year-round.
"Athletics is just a small piece of the pie. This is going to affect anyone who is using our facilities, whether it be for a football game, a tennis match, or just having a physical education class outdoors," said athletic director David Rosengard.
Waste transfer stations usually take up around 25 acres of land, and cramming the dump into a tiny section of land in Morton Grove makes a bad idea even worse. Waste transfer stations also bring rats, bugs, a foul smell, and even the threat of asbestos release. Niles West got rid of an asbestos problem in our staircases last year, and we do not want another encounter with this dangerous substance.
"I really hope this doesn't happen because it will negatively affect our school in so many ways," said junior Devin Stafen.
Fortunately, Stafen's wish came true. The plan has been rejected, but that doesn't mean we have seen the last of Lake Shore Waste Services. The village is in the process of creating a secondary plan with the company. A possible recycling center has been discussed, but nothing is set in stone. Further details are to come.
For more information, go to the Village of Morton Grove website and the Morton Grove Patch website.