Teachers' Contract Negotiations Continue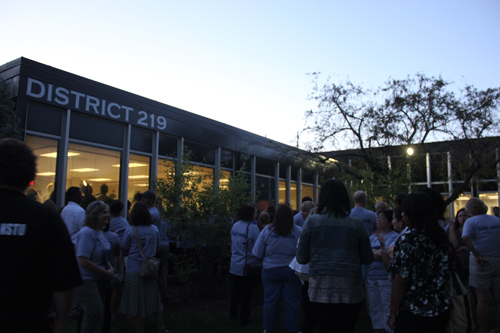 The standing-room-only section of the conference room at the district office was filled to capacity for the board meeting on Monday, Aug. 27. Dozens of teachers piled outside, peering into the meeting through the large glass wall to hear the discussion regarding teachers' contract negotiations–which began in March.
Although the details of the contract are private until agreed upon, some of the topics that are negotiated are wages, teachers' schedules, school-day schedule, working conditions, and the number of students per class.
These topics directly affect teachers,  which is why the NTFT and school board have not come to a consensus yet despite many meetings throughout the summer.
"In a district as healthy as ours this negotiations process should be smooth, positive, and drama free. We must remember that it is because of our excellent contract and working conditions that we are able to attract the very best teachers and support staff employees and hold them to highest standards of teaching and service to the district," said NTFT president Pankaj Sharma at the board meeting in August.
[media id=214]
Just as Sharma, on behalf of NTFT, desires the contract to rightly reflect the interests of teachers, the school board wants to  represent the Niles Township taxpayers as they accommodate teachers.
"We have the best teachers around- we're trying to be respectful of that- but we also have to be respectful to the community who pays the bills," said board president Bob Silverman in a phone interview.
Although there are a few topics left to discuss, negotiating members say they are optimistic about concluding the process.
"The whole contract is over 100 pages long. There are lots of proposals on the table, but we're hoping to finish it up a.s.a.p," said NTFT vice president Steve Grossman.