2012 Football Season Preview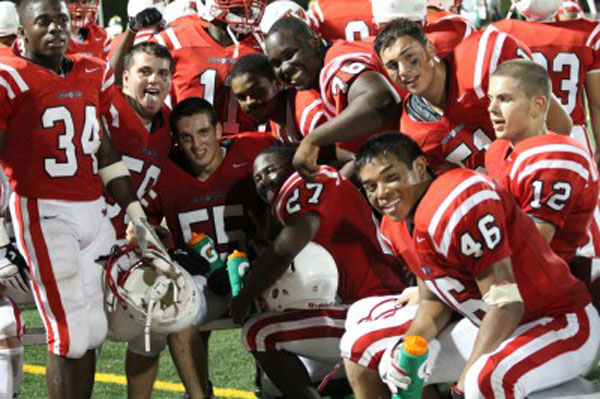 Coming off a tough season last year on the grid iron, the Wolves look to rebound with a new offensive system and a faster team on both sides of the ball.  To learn how this will translate into more wins, the NWN sat down with assistant coach William Pistorius.
NWN: Who are your key starters this season?
Pistorius: On defense it's junior tackle Dennis Gargovic, senior end Vaughn Monreal-Berner, and senior linebacker James Williams.  On offense it's senior running back Anthony Underwood and senior wide receiver Jeremiah Jordan.
NWN: The team has been in the classroom more this off-season.  How will that translate onto the field?
Pistorius: We've been trying to do a number of things teaching wise.  We try to visualize the plays that we use on the field so that the players don't just see the plays on the field, but they see them on the screen and on paper.
NWN: This coming Saturday is the North game.  How do you match up against them this year?
Pistorius: They're very similar to us in what they do offensively and defensively.  Our speed is much better though.  It all comes down to what happens up front.  If our offensive and defensive lines can get the job done, good things will happen.
NWN: What improvements has the team made in the off-season?
Pistorius: Most importantly we've bonded.  Kids are holding each other responsible if someone misses a tackle or is out of position.  That's a sign of a good team.  The players are really focused on each other, and that helps us develop camaraderie and teamwork.
NWN: Defense was the team's strength last year.  Has the offense gotten up to that level?
Pistorius: Absolutely.  We incorporated a new coach and a new offensive system.  The speed and execution of the offense has gotten much better over the past 2 months.
NWN: There were a lot of penalties last week.  Will that get better as the season goes on?
Pistorius: That happens a lot in early games.  Kids were nervous and weren't in the right spot at times.  We also took some personal fouls that we didn't want to.  That's being aggressive, which we want, as long as it doesn't get a fifteen yard penalty.  Those slow down the pace of the game, and we want to speed the pace up.
NWN: Tommy Galanopoulos and Mike McGivern have been sharing reps at quarterback.  Will that continue as the season goes on?
Pistorius: The plan is to keep that going.  They both bring different skills to the table.  The defense never knows if we're going to run or pass, and that forces them to prepare differently for us.  Together they can balance our attack so other teams will be unprepared.
NWN: What are your goals for the season ahead?
Pistorius: Make the playoffs.  We have a tough task week in and week out; the conference is tough top to bottom.  If we stay healthy and execute, we have the playoffs in reach.