Literacy Center to Host Monthly Writing Contest
By Mara Shapiro
September 7, 2012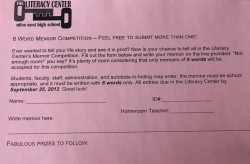 The Literacy Center will be holding a monthly writing contest where students can show off their writing skills while receiving prizes.
The month of September's challenge is to write a 6 word memoir. Forms are on Literacy Center secretary Kelly Adamovic's desk.
Literacy Center coordinator and English teacher Andrew Jeter says that he wants students to understand that writing is an everyday life skill.
"The Lit Center[wants] students to understand that writing is everyday life. It can be found in all the school subjects. Students think that school is the only place for it. The adults in the Lit Center use writing every day. Writing can be used everywhere. Writing can be fun," Jeter says.
Senior Kiki Platek is hoping her memoir wins a prize.
"If there's a chance to win something, and it's free, I'm there," Platek says.
Jeter says that potential prizes could be a tiger, DeLorean, or most likely, homecoming tickets.