Girls Volleyball: Wolves Take Care of Crosstown Rivals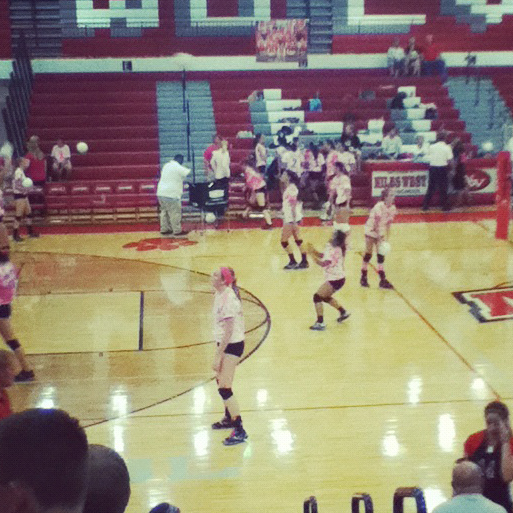 By Danny Thompson
September 5, 2012
The Niles West girls' volleyball team squared off against their rival Niles North Vikings last night, beating them in two sets, 25-16, 25-23.
Before the opening serve, both teams lined the court outfitted in their breast cancer awareness uniforms, and the crosstown rivalry trophy was introduced by District 219 teacher Lisa Dunham, a breast cancer survivor herself.
With the match underway, the Wolves and the Vikings refused to give each other any breathing room.  Neither team was able to build more than a two-point lead until freshman Dominique Krason came up with a key block to give West a 10-7 lead.  Two serves later, senior Molly Kleppin delivered a powerful ace to extend the Wolves lead to four.  Niles West reached the 15-point mark first, ahead 15-13.
At this point, the Wolves kicked into high gear and began piling on the kills, extending their point streak to 10, leading 24-13.  Just as it looked like the Vikings were going to roll over, Niles North scored 3 quick points, cutting West's lead to 8.  Timeout was called by the Wolves, who talked things over and answered with a quick kill of their own to end the set 25-16.
In the second set, the Vikings came out determined to show that they were a better team than the score indicated.  North jumped out to a 4-2 lead, though they were never able to pull away from the Wolves, who countered with a 10-3 run, capped off with a kill by junior Olivia Rusek that sent the ball into the balcony.
The Vikings refused to allow a repeat of the debacle that was the first set, however, keeping the Wolves within five.  Following kills by seniors Krista Grunst and Melanie Vujovich, the score stood 15-10, Niles West.  It was here the that the Vikings made their best push of the match, going on a 7-1 run.  North ended their run by hitting the ball into the net.  West was unable to fully capitalize on the Vikings' gaffe, as the teams began to exchange points.
Tied at 23, both teams dug deep and began an intense volley that ended with a Kleppin kill.  24-23 Wolves, the Vikings were now at their breaking point.  With the crowd on their feet, senior Monika Cieszynski served, and North was unable to return it. After a competitive set, the final score sat 25-23.
Beating a rival team is much more than just another W, as Olivia Rusek pointed out.
"[This win] will definitely give us confidence, and we'll also know how well we really play together," Rusek said.
Even with a great effort put forward by both teams, the Wolves were able to top the Vikings for the second year in a row and maintain possession of the traveling trophy.
"This win means a lot.  It's always a big game, and it's a big game for cancer awareness as well," said head coach Stacey Metoyer.  "Our girls stepped up and played their best game of the year.  This win means a lot for the playoffs and postseason seeding as well.  It was a huge win."