Scott Ackman Soars Both On and Off the Field
By Cheyenne Farrell
November 23, 2010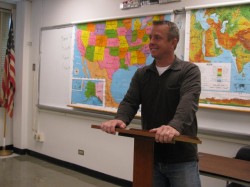 If you've seen him walking down the hall, it is implied in an instant that Social Studies teacher, Scott Ackman is a busy man. He always has a green, heavy-looking bag on his shoulder and a clear cup of Zen tea, with a Chicago Bears logo on the side, hastily walking back and forth between the history office and his classroom. Although this may seem intimidating, with a pop in his step and a smile on his face, Ackman is always an easy teacher to say hi to.
On the soccer field, the situation is a bit more tense. When the score is in his favor, Ackman's voice may barely raise during one game, except when one of his players scores a perfectly played-out goal. If the game is going in the opposite direction, his feet barely stay in one spot.  Although Ackman considers them his kids, he still yells at his varsity team when they mess up because he wants them to improve as players. Ackman knows his biological children are more important than his team and that is why, if he could, he would give more time to his family during the soccer season.
Ackman has three kids. Avery: 11; Quinn: 9; and Shea: 7; and they all attend Chicago schools. He wishes that they will grow up to be happy and to be able to do whatever they want; he knows he won't stand in their way.  He likes to spend as much time with his kids as possible while they are still young; they watch sports together and play games. "We play a lot of games," says Ackman.
When I asked what he does to relax, he said, "I spend every second of every weekend at one of my kids' sporting events." All his kids are extremely active; they participate in soccer, baseball, hockey, and karate. But, of course, they have their favorites. Avery's is soccer; Quinn's is football, even though his parents won't let him play it yet; and Shea's is basketball.
Ackman also spends his relaxation time going to every Bears' game he possibly can (since they have season tickets), attending White Sox games, and reading. He told me, after referring to his wife for the answer, that the last book he finished was Mocking Jay by Susan Collins. Having season tickets to Bears games is something Ackman has grown accustom to his whole life. He has only missed about 9-10 games since 6th grade, two of those being Super Bowls. He even refused to miss the game a few days after Avery was born; his buddies picked him up from the hospital and away they went.
Ackman is married to Shaun Waldron, another social studies teacher at Niles West. They met in the same place they are today, 16 years later. Without me asking, he told me about their first date. The only reason she went out with him was because he lost a bet. The bet was on the Bears vs. Packers football game. When I asked if he planned on losing, he replied, "Oh, of course. I lost on purpose." Waldron didn't want to go on a date with Ackman because, according to him, "She didn't like me." Since he lost the bet, he had to take her out to lunch at the Silver Cloud in Chicago, but he sneakily turned lunch into dinner, and he says, "She fell in love with me instantly!"
While attending Conant High School, Ackman played baseball, basketball, and soccer, of course. According to him, his best sport was soccer and he was too short to play basketball. While playing defense on the soccer field at Conant, he never sat out a game because of an injury; yes, he has had sprained ankles and other minor injuries, but he would play through them. His favorite soccer memory was playing in Denmark, England, and Germany. His teams entered and won major tournaments. He was later recruited for college soccer at Illinois State, but did not make the team. In the end, boys' soccer at Illinois State was dropped for Title 9. Girls' soccer replaced boys' soccer.  Ackman continued playing club until he was 31; he was even playing when his kids were born.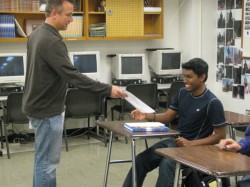 I asked if his team has ever won state and he replied, "Are you joking? No, I've never won state." Ackman has never coached a state-winning team, but he has coached two CSL (Central Suburban League) conference champion teams. His 2005 varsity team won conference, as well as his 2010 team. He knew his team would be very successful eventually, because of how many hours the coaches and assistant coaches are willing to spend on them.
Ackman teaches U.S. History, Global Studies, and WWII in room 2185. When he first started teaching at West, in 1993, only U.S. History was taught. Global Studies and WWII are newer subjects. One thing he enjoys about teaching is when students come back to visit him and tell him that his class made a college course easier for them. He once had a student who failed every class that year, except his U.S. History class. He made a bet with that student that he would fail U.S. History. The student bet that he would pass. Ackman knew that his reverse psychology would work on the student, and wasn't surprised when he passed the course. Ackman went into teaching for the thrill of this scene, making kids who hate history, love and be able to enjoy it in the end.
Before Ackman was a teacher, he had three minor jobs, one being a construction laborer, where he built and took a part bridges. According to him, the work was a lot of fun but very hard and laborious. Ackman didn't have many stories for me, but I thought it was interesting that every time he built a bridge, he put a message in a bottle into the cement. Working at the Quaker Oats factory in Barrington, IL was an eye opener, Ackman told me. This was another one of his early jobs. He saw rats fall into the food, and it would be packaged and sent away. Surprisingly enough, this didn't stop Ackman from eating the cereal.
When I asked Ackman who the prettiest woman in the whole world was, he smiled bigger than ever and replied, "My wife." When Ackman talks to his children on the phone there isn't the slightest chance that they are unimportant to him. He laughs with them and smiles at the sound of their voice. When they go on trips with their friends, Ackman still wants to be a part of their day; and when his kids don't call him, he can't wait to speak to them. Ackman's definitely a family man.
Ackman has a lot going on, but somehow he gets it all done. From school to family to soccer, he always makes an impression on the people he meets.  Senior Becky Darling, who was in Ackman's global studies class and is a co-manager of the boys' soccer team, said he is the same both on and off the field.
" I don't remember it [his classroom] being any different than on the field," she said.  "The classroom was like a second field, his mentality and personality were the same: funny but passionate."