Ban on Candy Postponed
By Ivana Kosir
November 23, 2010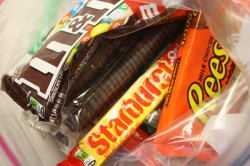 After talking to student government members and hearing what they had to say, the School Board settled on waiting until next school year to consider the regulation of candy.
If and when a candy ban is executed, it will be more like a regulation, said principal Kaine Osburn.
"[The School Board] will not do anything drastic or sweeping," said Osburn.
As of right now, there is no limit on candy or sugar-filled items.
"There is no candy ban that we've been told to implement," said Osburn.
On Wednesday, Nov. 10, the School Board had a meeting with student government members regarding a candy ban for the future.
Senior and student government member Nick Flatley, who attended the meeting, said he feels that banning candy will lower the income of student clubs and activities, resulting in students paying more out of their own pockets.
"The worst part about [the consideration of banning sugar] is fundraising with candy is used to subsidize activities for students, and without the revenue students would be forced to pay entirely out of their own pocket for the kind of activities they would get to experience for free otherwise," Flatley wrote in an email.
Flatley said he is grateful that the Board took the students' opinions seriously.
"We have nothing to worry to worry about. A candy ban will not happen at Niles West anytime soon," Flatley wrote.
For more information about this on-going issue, read our previous story published on Nov. 10.