Girls' Volleyball Dominates Waukegan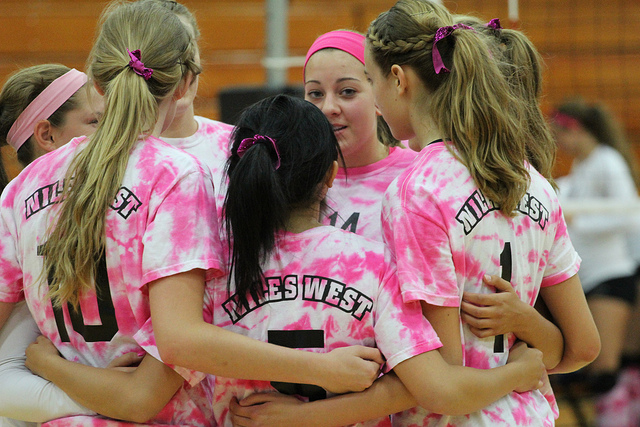 By Danny Thompson
September 25, 2012
The Wolves made quick work of the Waukegan Bulldogs Monday night, winning both sets by double digits.
Niles West got off to a fast start, scoring on multiple errors by Waukegan and an ace by senior Felicia Phan.  After the score reached a lopsided 8-0 in favor of West, Waukegan was forced to call a time out.  Following the time out, not much changed as the Wolves scored another four unanswered points to bring the score to 12-0.
At this point the Bulldogs finally got on the score sheet by scoring with a kill, and then blocking an attempted Wolves spike.  Waukegan's push was short lived, as they immediately served into the net following their block.  The Wolves jumped on the already deflated Bulldogs and jumped out to an 18-4 lead, helped with kills by senior Emily English, junior Olivia Rusek, and senior Laura Krikorian, and a block by English and Krikorian.
West's lead grew to 22-6, forcing Waukegan to take a time out following a Rusek ace.  A net violation, followed by a pair of kills by senior Krista Grunst, ended the set in a 25-8 Wolves victory.
In the second set, more of the Wolves bench saw playing time, and junior Julia O'Neal started scoring with a kill.  Waukegan came out slightly stronger in the second set, taking their only leads of the game 2-1, and 3-2.  From then on the Wolves were nearly unstoppable, going on a 10-0 run, during which Krikorian added multiple aces, and junior Lizzie Prete added a block.  Niles West went on to win 25-13, finally putting Waukegan out of their misery.
Games like this give the winning coach an opportunity to evaluate bench talent, as head coach Stacy Metoyer did.
"I feel [the bench] performed very well.  They were aggressive and were not scared to make mistakes."