Football Team Earns 5-0 Record, Maine South to Come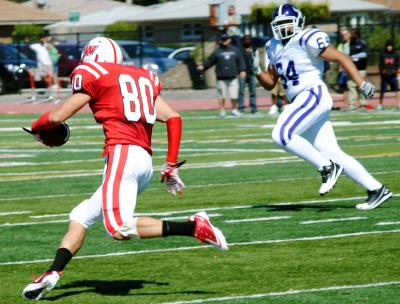 By Nate Schapmann
September 28, 2012
Up until this season, the word "futility" was synonymous with the Niles West football team within the various circles of the school.  Even if the team's had shining moments in their otherwise lackluster seasons, they've never been able to get over their reputation.  The perennial doormats, the constant deadbeats, the all-around losers, such have been their distinctions in the post-Rashard Mendenhall era.
As their first game against Westinghouse approached, the football team faced a molehill of expectations.  Yes, there were no expectations… hardly anyone believed in our Wolves, that is, except for our Wolves.
Okay, so they've won their home opener.  That was supposed to happen, we beat them last year, didn't we?  For all intensive purposes, the most important game of the year comes rolling along, and we haven't won it in six years.  Still, they had hope, they had confidence, and they were hungry.  Niles North fans and players walked away with heads hung low that day, and it began to look as though the Wolves had finally begun to lick their wounds.  After convincing wins over Maine West, Highland Park, and Waukegan, it's happened.  The Niles West football team has earned a record of 5 wins – 0 losses, the first time since 1968.
Senior football player Aalvia Ahmed said he's proud of his team, saying "It feels great to be a part of a 5-0 team, and no one deserves it more than us.  I'm happy that we're finally beginning to set up a winning tradition here, and changing people's perception of us."
Now that everyone begs the question- can Niles West compete against the traditional powerhouse (Evil Empire) that is Maine South?
"Right now we're just trying to take it one game at a time.  I think we have a real shot against these guys, and I think we'll surprise a lot of people," said Ahmed.
Yeah, I think "surprise" is the right word.
Niles West competes against Maine South tonight at 7:00 p.m. at Maine South.