Girls Swimmers and Divers Stand Out at State
By Nick Goldwyn
November 23, 2010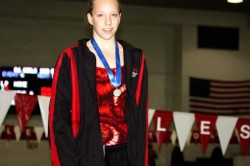 Last Friday the Niles West Girls Swim Team boarded a bus to the IHSA State Swim meet held at Evanston Township High School. They were quiet, as they drove the short distance between the two schools, so that they could cheer until they couldn't speak when they arrived. Among them: Freshman standout, Edan Scott, who placed 6th in the 50-yard freestyle (with a time of 24.09).
Along with Scott, who also finished 22nd in 100-yard backstroke (with a time of 59.73), two West divers had great finishes. Senior Heather Funai finished 47th in diving, and junior Kelly Sanks finished 20th in diving.
About her first visit to State, Scott said, "State was one of the most amazing experiences I have ever had. I have never seen such a large crowd or heard such a loud roar. I am really happy with how I did, 6th in the state, I never thought I would achieve something like that.
"Our two divers, Heather and Kelly are amazing. They have such a large work-ethic and they are great under pressure. On Saturday I had finals, I was stunned when I saw the small crowd of Niles West girls' swimmers. Among the tremendous crowd of New Trier and Evanston they were small, but I heard no one louder. I would like to thank them for their support; they were my best friends, and we helped each other achieve our goals, furthering us as a team."