Wolves Beat Vikings on the Soccer Field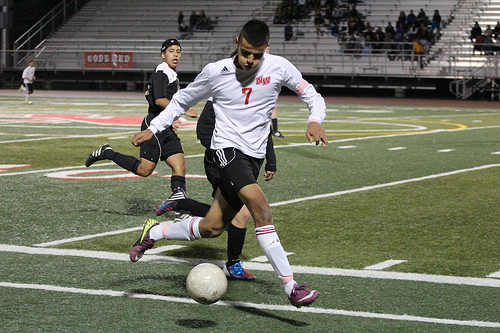 By Rebecca Yun
October 10, 2012
There was a slight breeze and the weather was brisk as the Niles West Wolves took on their cross-town rivals, the Niles North Vikings on Tuesday. The turnout was dismal, but the atmosphere was buzzing. Both sides played their hearts out, and in the end it was the Wolves that came out victorious, winning the game with a score of 3-0.
For the first few minutes of the game, it seemed like West was overshooting the ball a little too much. The effort to score goals was undeniably there, but the strength of each kick was overpowering. The defense for both teams looked solid, and the ball barely encroached into the goalies' vicinities. After 20 minutes had elapsed, neither team had scored a goal and the score was stuck at 0-0. Six minutes later, junior Hubert Szelag scored the first Wolves goal, and the crowd went absolutely crazy. At halftime, the score remained 1-0 in favor of the Wolves.
Nine minutes into the second half of the game, senior Daniel Rozen scored the second goal of the night, putting West at 2-0. Not even nine minutes after that, senior Chris Tomuta scored the third goal for the Wolves, and the cheering was nearly endless. Niles North tried to make a comeback, and came incredibly close to scoring, but a great save from freshman goalie CJ Mihulet prevented any scoring for the rest of the game. When the game had ended, the Traveling Trophy was hoisted proudly above the Wolves' heads, and it was carried off the field accompanied by the boys cheering.
"Coming into the game, we felt great. We played against North last week, and we lost, but we knew what he had to improve on for tonight's game," said head coach Scott Ackman.