Jewell-apalooza: A Day in the Life of Niles West's Resident Superstar
By Nick Goldwyn
November 30, 2010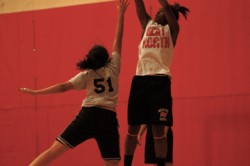 Jewell Loyd looks slightly troubled. She takes a step back from the play, trying to figure out what to do next, and then, as any good coach would do, she calls to all of the other girls to watch her as she walks through a play that no one seems to get. Jewell walks through it step by step, from the catch at the wing, to the dribble into the lane, and then to the finish, a short jumper from just below the free-throw line. Seeing that the girls seem to get it, Jewell grabs the ball, throws on a smile, and runs back to the rest of the team to run the drill again. This time for real, and at full speed.
It is hard to describe how relaxed Jewell Loyd looks with the basketball, how serene and perfect everything is when the ball is in her hands. Jewell (now ball in palm) turns up court and surveys; she sees the defender, junior Janet Iqal, cheating right, gives a quick jab step in that direction and then darts left. She moves around Iqal and has already put the ball in the basket with a smooth, effortless-looking reverse lay-up before I can even snap a picture.  And then she's back at the end of the line, waiting her turn to run the drill again, cracking jokes with her teammates, "Jewell"-smile beaming from her face, basketball on her hip, looking as relaxed as ever.
Every school day, Jewell starts her morning the same way, sitting with her group of friends in the Oakton lobby during first-period study hall. Jewell sits near the middle of one of the long, red tables and plays Kemps, a four-person Go-Fish-like card game. Today, Jewell and fellow junior, T.J. Brunning are on a bit of a losing streak. They lose again and again and again but that doesn't seem to dampen Jewell's spirit. Jewell lightens up the room even when she and T.J. aren't winning by laughing, joking and talking to everyone around her. She talks to junior Stephen Giddens about food, saying something along the lines of "no, you can't have my Oreos; they're for chemistry," and to senior Michael Choi about basketball. She looks almost as relaxed at the table as she does on the court, nothing can shake her laid-back persona, or center-of-attention charm. Not even Dean Rigby coming at the end of the period to tell her and the rest of the table that card playing is against the rules. She just shrugs it off, packs up the cards, and gets ready to go to her second-period class, another study hall this time in the café.  The bell rings and Jewell is off, not only is she quick with the basketball; she is also deceptively fast in the halls from class to class.
Jewell Loyd (the now 5'11" guard) began playing organized basketball in the fifth grade. Since then she started on varsity four straight years at Lincoln Hall, played club basketball at Full Package (from sixth till eighth grade), and has been a major factor in the revitalization of the Niles West girls' basketball program. If you didn't know, the season before Jewell arrived the lady wolves were 9-20; her freshman year they improved to 22-9; and last year, Jewell's sophomore season, the team was 27- 5 and a win-against-Fenwick away from going to state.
Jewell isn't too bad of a individual player herself: she is ranked in the top ten for ESPN's class of 2012 scouting report (#6 overall), and she is in the top three for her position as guard (#2), and her ESPN scouts grade is a 97 out of 100, not to mention that she averaged 23 points, 15 rebounds, and five assists last season for the Wolves. Oh, and as if you hadn't heard, Jewell averaged 8 points per game in limited playing time, off the bench, for the girls U.S under-17 basketball team this summer, at worlds, in France.
As head Coach Anthony Konsewicz puts it:
"[Jewell] is very dynamic, she does it all, she can shoot, she can score, she's very unselfish, and I think her biggest strides have been on the defensive end."
Not only is Jewell one of the best basketball players in the country, she is humble as well. While talking about last year's basketball season during study hall, she sells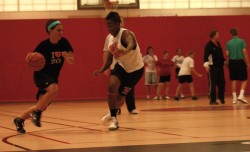 herself short saying, she averaged about 21 points instead of her actual 23. When asked if she would consider herself a 10 out of 10 on the court, she doesn't hesitate to say no, before giving herself a solid 7 out of 10, and tossing around the likes of Maya Moore and Candace Parker when asked who's a 10. Even when talking about her team, Jewell remains modest:
"Are you going to win state?" I ask.
"Whatever happens happens," she replies.
I finally catch up to Jewell at the beginning of the hallway that leads to the café and eventually to the autos wing. As we get to the café, Jewell utters a few words, "he's with me," and a friendly hello to the security guards (Jewell knows everyone) and gets me into second period study hall. We walk over to Jewell's usual spot, in the middle of a giant group of juniors, where she takes her place at the head of one table, and instantly becomes the center of attention. Just like first period, Jewell keeps conversation going at the table, at one point even stopping to joke about this year's basketball season. Junior Quinn Winkler, half yells half screams, "girls' basketball bout to win state this year" to which Jewell jokingly replies, "oh you know it." A little after that, Jewell leaves the table destined to acknowledge everyone within a five-table radius. She says hi to all of the juniors dressed in black (it's the day of the homecoming assembly); jokingly makes fun of the seniors who come into junior territory dressed in red; and eventually, after talking to just about everyone in the lunch room, makes her way to the front entrance of the café, and gets into her stance to bolt off to her next class.
Jewell Loyd runs the school, and it is a cool thing to behold. The bell rings and she flies off across the hall into the athletic office. Where she then steps over recycle bins and limbos under desk phone wires until she is at the back of the office taking a few pretzels from a container on one of the shelves. The secretaries smile and wave to her as if it's common practice for her to take some of their snacks, and she gives them a beaming Jewell-smile back, as if to say thanks for the free food. It doesn't seem at all wrong; in fact it's somewhat marvelous. And exiting the office, pretzel stick in hand, we begin our walk to chemistry.
Jewell looks out of place. In her first real class of the day, it seems she isn't as talkative and interactive as she is in study hall and on the court. Jewell, in her black t-shirt and black basketball shorts, sinks into the back corner of the room, and for once isn't the center of attention. She talks to T.J (who has been in all of her first three classes so far), goes up to the board, and (along with T.J and junior Alexis Ayala) tries to dot the board with a mole of dots for Mole Day. The period goes by extremely fast: the mole-day party, mole-day snacks, mole-day song, and other mole-day festivities (rounded off by mole-day fireworks, yes the teacher literally blew up chemicals, (it was awesome))–and before I know it, the bell has rung and we are down the stairs. Onward to victory (scratch that, onward to sports marketing).
The back of Jewell's black Nike t-shirt reads "Loyd" in big bold off-white letters. That's what I notice as we're hustling to make it downstairs for sports marketing, because yet again I am behind and struggling to keep up with Jewell's blistering pace through the halls. We get to the stairway, the one closest to the science wing, and begin our decent down four flights of stairs and two levels of the school. When we get to the second floor, it starts.
First as a soft rumble, then it grows louder, more recognizable. It has become eardrum-shattering loud and extremely cohesive as all the seniors chant in unison, "11,11,11." The first wave of red turns the corner and begins to climb the stairs; we continue down but are stopped near the bottom as the now-infamous riot brings all movement on or around the stairway to a halt. If you have heard the story of Moses, you know that while leading his people out of Egypt he parted the red sea; well, at the bottom of the stairway that day, Jewell was my Moses, parting the red sea of seniors (dressed in red for the homecoming assembly) enough so we could escape.
Jewell Loyd sits in a first-floor classroom across the hallway from the English wing. She listens to details about a new sports marketing project, head slightly down, soaking all the information in, sorta like a sponge. When Mr. Lueder tells the class to break back into their groups for the previous project, Jewell motions ever so slightly to junior Jake Morrison; it's a sit over here type wave, to which Jake complies. Jewell and Jake are given a bag of random items and (for the project) told to make them into a new product. They initially get a lanyard and a clip (that you would probably seal potato chips with). After Jewell pitches the idea of a dog toy (by moving the lanyard back and forth in her hand), they are out of good ideas, and then help comes in the form of Mr. Lueder. Mr. Lueder stands up in front of the class, motions to the bag of items at his side and says that you can trade in your bag for another one, Jake and Jewell agree, and Jewell runs up to get a new bag of stuff.
"Chopsticks straws," says Jewell, as she looks inside her new bag, "we could make chopsticks straws." Jewell pulls the two neon green straws out of the new bag; she grabs a pencil and tries to put it inside the straw to support the chopstick. She then flips the contraption over, attaches a rubber band to it (also in the bag), and then mimics drinking out of it to show both its chopstick and straw functionality. After that, Jewell is silent for a little while, thinking of good ideas for the project, as Jake and I pitch bad ones. We come up with snorkel, and a few others so bad I can't remember, and then Jewell pitches an idea. "How about mini table hockey? Have the straws be the sticks. We could set it up in an old shoe box and make a puck," she says. We all agree that glow hockey is the best idea for the project, but before they can get any work done, Jewell realizes we have about a minute before the bell and begins to pack up. I have to say, if the whole basketball thing doesn't work out, Jewell could always be a sports marketer.
Or a tennis pro. Jewell could always just go pro in her second best sport (wow, that sounds weird to say). Jewell has been playing tennis longer than she's played basketball. Since her dad is a tennis instructor, Jewell had a lot of practice growing up, and all that practice paid off when she entered high school. Jewell went to state both her freshman and sophomore years in tennis. But this year, as she told both Jake and me when we asked about it in sports marketing, she decided to give it up so she could have more time on the basketball court.
Maybe it's because the lights are off, maybe it's because Jewell is dressed completely in black (black shoes, face paint, shirt, shorts, and even black socks), but it seems as if again Jewell has sunk into the background of the room. She isn't the center of attention, but she can still control the class, either with or without words. As people file into U.S history (with Mr. Bennett) Jewell finds me a space to sit directly next to her; she does this with a wave of the hand and a quick comment to the person who sits in my seat, something along the lines of "hey you don't like your seat do you? Why don't you grab a new seat for today."
Jewell is in the lunchroom now, standing quietly in line, two bags of popcorn in her hand. I ask why she has such a small lunch, to which she smiles, laughs and then says that we are going to have a pizza party during her 7th period class (English with her favorite teacher Mrs. Gibson) and she doesn't want to fill up, but first Jewell must go to the trainers and do what she does every day, chill with her sophomore buddy and best friend, Sydney Hellwig. We walk down the hallway, and for once Jewell isn't flying. Instead she is meandering, talking to everyone who passes by, and even though it's the middle of sixth period that's still a lot of people. She jokes with the seniors about who has the most spirit, and is almost knocked over by sophomore friends trying to write on her arm in white face paint (the color the freshman were supposed to wear for the assembly). We cut through the middle of attendance for a junior gym class, go past the loads of people setting up the stage for the homecoming dance, and enter into the little room in the sports hallway known as the trainers.
Jewell jumps up on a table, grabs a hot towel with her bare hands "because I'm cool like that," she jokingly tells senior football player Ryan Olen, wraps it up and lays down with it on her upper back and neck. She sits relaxing with the hot towel not saying a word, until her aforementioned sophomore buddy bursts into the room. Jewell immediately transforms back into her talkative exuberant self. While I figure out how to work the camera, Jewell tries to toss popcorn into Sydney's mouth; they talk back and forth about every subject imaginable, from who has the better class t-shirt saying, 12eckless vs. 13oss (can you find the number 12 in the word 12eckless), to who is faster in the 50-yard dash (they can't decide who); they giggle and laugh constantly, and even have time in it all to take a picture or two or seven. Not to mention Jewell and Sydney exchange face-paint autographs. Then it's time to go, after Sydney specifically tells me to put in the story that she and Jewell are best friends, and a few goodbye hugs between the best friends we are off back through the halls and onto Jewell's next class. But not before she says hi to a couple more people.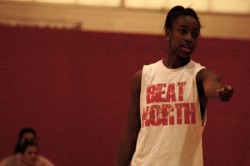 If you want to know where Jewell gets her amazing abilities when it comes to sports all you need to do is take a look at her family tree. Her dad is a tennis instructor and played basketball growing up, and her brother, who she says taught her most of what she knows about basketball, played both high school and college ball and is now in Romania playing ball professionally. As I sit in the back of Mr. Graham's 8th period public speaking class, listening to Jewell give a very moving speech about her brother leaving for Romania, I realize not only how much basketball means to her, but how much family does too. She talks about all he taught her, and how ever since she was little she wanted to play basketball just like him, and then she moves on to say how much she is going to miss him now that he's in Romania and won't be coming home much, but how she knows it's for the best. And then, speech finished, she walks back to her seat, flashes the familiar Jewell smile, and with a chuckle says to me something along the lines of "how are you gunna use that in your story?" well Jewell I was going to use your line as the end of my story but I felt a description of you at the assembly would be a more fitting end.
At the homecoming assembly, Jewell stands in the middle of the cheering, screaming, standing, juniors all dressed in black, with their signs held high, and their chants slightly louder than those of the seniors (sorry seniors, we were the loudest). About a fourth of the way through the assembly, everything gets quiet and certain athletes begin to be called to the floor. The four boys who took home two-state relay records in track last year, the freshman who qualified for state in golf, and a few other students who went to state in their respective sports, and then Jewell's name is called. The spot light in the gym shines down on the ocean of black clothing, and–out of it all–comes Jewell, happy as ever. The teacher with the mic talks about how well Jewell did with the U.S under 17 team in France at worlds, and Jewell just stands there, cool as can be, giant Jewell smile on her face. Being called onto the floor doesn't frighten her in the least; nothing really does, because everything is just another part of the life of Jewell Loyd.