Q&A with Swimmer Edan Scott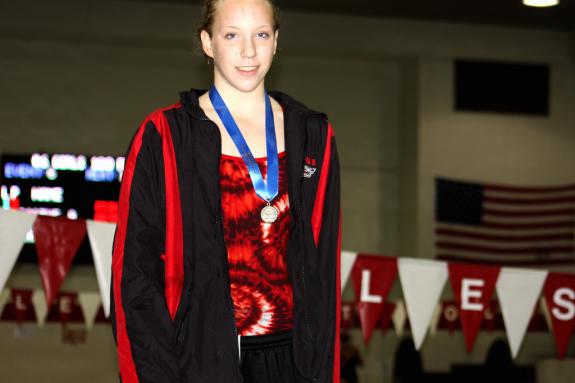 By Danny Thompson
October 23, 2012
Coming off an impressive season last year, swimmer Edan Scott is continuing to win meets and have record setting performances.  To find out how she keeps her success up and what her plans for the future are, The NWN sat down with Scott herself.
NWN: How's your season going?
Scott: Great. I'm doing a lot better than last year. I'm getting more endurance and it's helping me in the 100 and 200 free.
NWN: With all the success you've had, how do you keep it up?
Scott: Off season workouts. My club team, Swift Aquatics.  I've made it to junior nationals with them before.  It's not really a matter of how I keep it up, but how I improve.
NWN: What is your favorite stroke?
Scott: Freestyle, obviously. But I can swim all of them really well except for breast stroke.
NWN: What does it feel like to break a record?
Scott: Pretty awesome. It's a really good milestone. It's just another step towards being the best I can be.
NWN: What was your best meet this year and how far do you hope to make it this season state-wise?
Scott:  The GBN spring classic was probably my best. It was an invite so there was a lot of competition, and it inspired me.  As far as this season I'm hoping to get fourth in the 50 free. Freshman year I was sixth, last year fifth, so this year I'm hoping for fourth. I'm also hoping for twelfth in the 100.
NWN: Have you started planning for where swimming will take you after high school?
Scott: Well, I'm definitely going to continue in college. That's not even in question. It really just depends on who recruits me.
NWN: What is your greatest strength/weakness as a swimmer?
Scott: I'm best at sprinting. I can be really fast for a really short amount of time. I don't have much endurance though. Emma Helgeson is the one who has that. She kicks my butt in practice.