Nathan Palma: One-Year Death Anniversary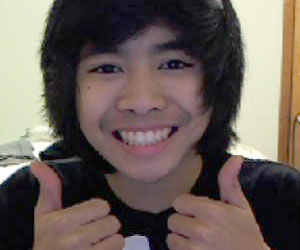 By Gabrielle Abesamis
October 19, 2012
"Five hundred twenty-five thousand six hundred minutes. How do you measure, measure a year?" The lyrics of the song, "Seasons of Love," by the cast of Rent, encourages people to reflect.
It wasn't too long ago. It wasn't too long ago at all, actually. A teenager, a senior in high school in fact, played with Pokemon cards, walked around with a Green Tea Frappucino in his hand, and sang  "Baby" by Justin Bieber. He was so bright, very tallented, and full of positive energy.
"How do you measure the life of a woman or a man?"
The boy was a slightly smaller than the rest of the boys his age. He missed a good amount of days in school, and not a lot of people knew it was because he was battling a a very serious disease. He was still the kid made people smile without even trying to.
"During that time, he suffered greatly from his various maladies, but one would never know it by his demeanor in class, by his work ethic, and by his commitment to experience all that Niles West—and life in general—have to offer," says his English teacher Michael Conroy.
"In truths that she learned, or in times that he cried. In bridges he burned, or the way that she died."
It's been 525,600 minutes from Oct. 20, the day that the teenage boy, Nathan Palma, passed away after battling pulmonary hypertension.
"I spent more than half of my life with the Palma family, and I watched Nathan grow from an infant into the young man we all knew. There were many things that I noticed about him growing up, and the most important thing that I took away from time spent with him was to live in the present. He was carefree, and would let what most people bother them slide by. He focused on the bright side, often times offering a smile to brighten ones day," says Gary Chu, Nathan's favorite teacher, now a teacher at Niles North High School.
By now, he would have been a freshman in UIC studying something in the medical field, anesthesiology maybe. He wanted to save lives and help the people that had the same conditions he had. That was the kind of person he was, full of heart, sincerity, and compassion.
"Nathan changed my life. He took a part of me, and he will always have a part in my heart. It's weird to have gone so long without him. Sometimes it feels like he's coming back. But he's not, so all I can do is live for the both of us," says senior and best friend Rachel Dimayuga.
His other friends share their experiences and observations from the incident.
"Nathan being gone hasn't ever really sunken in for me and I don't think it really ever will. I can't believe its been a year and adjusting to this year has definitely been tough. To me, he isn't really gone. It's like my mind refuses that.  As his one year comes closer, it's been difficult for anyone to really function and the emotions are all rushing back.  I just miss him like crazy but I know he's happier now," says junior Francesca Morales.
"I see Nathan in people now. People seem to be trying to live life fuller. And I've been trying to change too. Cuz no matter how much pain Nathan went through, he was always up to make people smile. I want to live more like him too," says senior Anna Nicolasin.
Looking back at the 525,600 minutes that have passed, so much has changed. The song "Baby" can't be played without thinking about him, the asian Justin Bieber. He still continues to change people's lives. He won't fail to teach new things to his friends and those who only know his story. He gives us a reminder of who we really are.
"He really did touch a lot of people. Sometimes I feel like he left because he finished his mission on earth early. His relationship with me taught me life is too short and everyone should enjoy the time they have with the people they meet. He taught me more than just academics, he was really smart . He also taught me how to be happy," says Janella Manalang, a student from his graduating class.
"Every time I feel exhausted, ill, or overwhelmed to the point of taking a day off from work, I think of how Nathan persevered through the pain.  He inspired me then, and he inspires me now," says Conroy.
"Since his death I have realized that I can't take anything for granted, and I have adopted a new ideal to the way I live my life. I now try to live every day to the fullest because we never know when our last day will come so why not live it up while we can," says Nicholas Fortin, a student from Nathan's graduating class.
Nathan's  friends extend a message to him and to others.
"I remember when we first hung out at Austin park playing volleyball and frisbee and playing guitar with everyone from Lincoln and Park View. It was a blast. I miss your awesome personality, your courage, and strength that you portrayed day by day in and out I school. You are one of the strongest people I know, and I am happy I met you and became good friends with you. I miss you so much and your presence lit up everyone's day. You have a huge heart, my friend. I know you're happy up there and you're looking down on us and watching us and helping us get through each day stress free. I love you Nathan. You're a quality awesome friend. Mahal kita," says Casey Mahoney -Muno, a student from Nathan's graduating class.
"RIP Nathan we all love you and miss you," says Morales.
"Though the story never ends. Let's celebrate. Remember a year in the life of friends."  These past 525,600 minutes invites us to pass on Nathan's legacy.  It invites us to continue making people smile, work hard, and learn to appreciate everything.