Little Wolf Pack Preschool Transitions from Community Preschool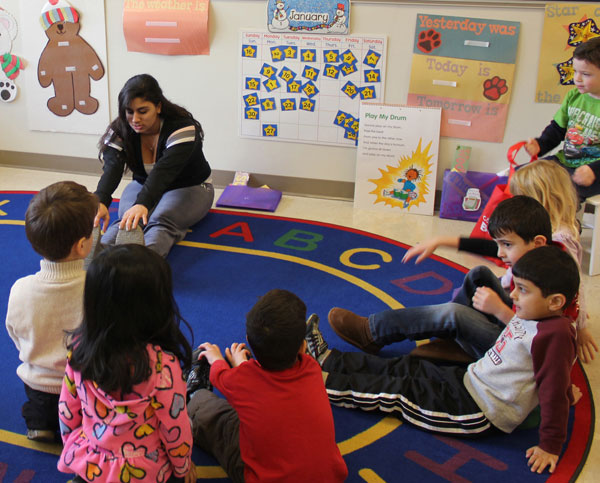 By Mara Shapiro
January 22, 2013
The Little Wolf Pack preschool, along with the Child Development preschool courses, will be transitioning from a community preschool to a District 219 preschool second semester.
Previously, children from the local communities could be students in the preschool. With the change, only District 219 and feeder school staff  can enroll their children into the program. This change is due to a proposal in the Annual Review of Programs to integrate Children's Learning World, the current daycare for faculty and staff, into the Child Development curriculum.
Principal Kaine Osburn said the change was a result of negotiations between the school  board and teachers union.
"…The teachers union and the school board had negotiated for an expansion of the Children's Learning World opportunities at Niles West this year because of a greater need among staff members.  We could not this year expand the Children's Learning World and continue the community preschool; the latter is only two hours a day, three days a week.  Therefore, it was best to go forward now with the integration of Children's Learning World and Child Development," Osburn said via email.
Local park districts, including Morton Grove, made themselves available toward the preschoolers who attended Little Wolf Pack first semester. The Child Development students, who act as teachers for the preschoolers, will not only receive new students, but possibly a new period and teacher as well.
"I was shocked. I didn't want to change my classes. I liked them the way they were," senior Child Development Workshop student Stephanie Swanson said.
The new periods for Child Development and Child Development Workshop are first, second, third, fourth, and ninth. No longer will there be a fifth, sixth, or seventh period class because the Children's Learning World students will be napping during that time. Michelle Kline will be teaching periods one, two, and four, and Kay Coughlin will be teaching third and ninth periods. Child Development and Child Development Workshop students will now be in the same classes rather than the two separate Workshop classes reserved for second or third year Child Development preschool students.
Kline said that there won't be too much of a curriculum change, other than having students get used to Montessori teaching, which involves the usage of the senses and hands-on materials. The Child Development Birth to Three class, which was eliminated two years ago, will integrated into the preschool curriculum.
"Student teachers will be helping Children's Learning World teachers lead Montessori lessons. There will still be lesson plans and observations. Students will still be getting connections with children," Kline said.
Swanson feels that the transition might be difficult at first.
"It's going to be hectic because we've only had two days of Montessori training and one day of observing [Children's Learning World.] Montessori is way different than lab preschool," Swanson said.
Kline believes that the transition will be relatively easy.
"So far it's been very smooth. With everybody else in the middle of the year it was not ideal [to learn about the change]. It's great to be working with the Children's Learning World director and teachers," Kline said.
Osburn agrees with Kline.
 "The preschool was a great part of Niles West for 20 years.  However, we anticipate that Children's Learning World and Child Development will become exactly that, a great part of the Niles West community over the next 20 years and more," Osburn said.