Students Honored by Their Teachers
By Gabrielle Abesamis
October 24, 2012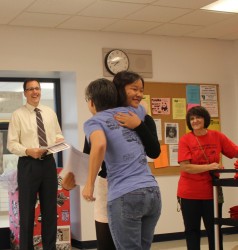 In an effort to acknowledge students for outstanding behavior and attitude, principal Kaine Osburn hosted the annual "You Make a Difference"  breakfast  for students in the student commons at 7:30 a.m. today.
The following students will be recognized : Samantha Barnes, Jamesha Bennett, Cameron Broderick, Anna Chirayil, Lauren Coplon, Arbiela Dadesho, Crystal Dominguez, Dustin Easter, Andre Eramia , Lila Gilbert, Jessica Govis, Elizabeth Holbrook, Wendy Jackson, Rand Jassar, Clark Kana, Karien Kana, Ivana Kosir, Daniela Mansour, Katherine McDonagh, Sterling Mendez, Sonia Merchant, Negin Motlagharani, Rishi Patel, Dil Patel, Caitlin Platek, Isaac Reinemann, Paula Saelim, Maya Sato, Mardin Shinoo Ali Comi, Jack Thornton, Zayna Usman, Yeong-Haw Wang, Frank Yousif, Lyba Zia.
English teacher Sharon Swanson explains the importance of the event.
   
"I think too often, [students] are not recognized when they do something really special and worthwhile. They absolutely deserve recognition. It makes them feel good and valued and that also encourages them to do things," says Swanson.
The students said they are happy to be honored.
"I was really excited [when I found out], because it was so unexpected. It feels great to be recognized for something I love doing," said junior
Lila Gilbert.
"I feel very honored to be nominated by my director. This makes me very proud with the work I have been doing at Niles West High School and will continue to do the same and more," said sophomore
Andre Eramia.
The breakfast was only open to the students who are honored and the staff members that have nominated them.