Wolves Fall to the Glenbrook South Titans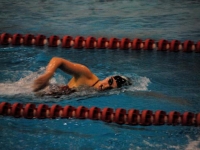 Hang on for a minute...we're trying to find some more stories you might like.
The moment you stepped foot on the pool balcony last Friday, you would have seen that the walls of the pool deck were decked out with balloons, streamers, inspirational quotes, and posters with the names of the eight seniors on the team. It was Senior Night, and for those who attended the meet, the decorations made the atmosphere more lively and exciting.
Although the girls weren't aiming to beat Glenbrook South, their goal was to beat their previously-set times before going into conference and sectional tapers. Many girls swam extremely well, and some even had personal bests. The Titans won the meet with a score of 124-62 on the varsity level.
All races were won by Glenbrook South except for two events won by sophomore Emma Helgeson, who had times of 1:58.54 in the 200 freestyle and 5:14.35 in the 500 freestyle.
Right before diving was the highly-anticipated 50 freestyle, which pitted junior Edan Scott against senior Titan Olivia Smoliga. Smoliga, who had gone to Olympic Trials this past summer, ended up setting a new pool record with a time of 23.90.
After the diving portion of the meet, the seniors walked down the pool deck accompanied by parents while a fellow swimmer read her speech. The seniors and their parents got to shake hands with principal Kaine Osburn and athletic director David Rosengard. Those seniors were Marissa Rooney, Natalie Martinez, Lucia Tejada, Rebecca Yun, team manager Carlee Lemel, and captains Amy Jaglinski, Mary Giffen, and Neda Esfahani. It was a very emotional yet fun time for all who were on deck.
"The meet went very well Friday. It was a good rebound meet from the week before at Maine South when most of the girls appeared to be sluggish. It was a great way to end the dual meet season heading into the post season this week… Speed training is really starting to show in the water and I look forward to seeing what the girls can do with some rest coming up here at the end," said head coach Jason Macejak in an email.