Girls' Volleyball Wins First Sectional Game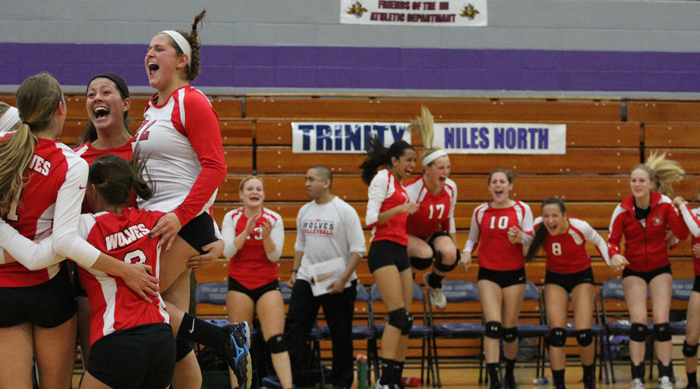 By Danny Thompson
November 1, 2012
The girls' varsity volleyball team took on the Trinity High School Blazers Tuesday, Oct. 30 in the sectional competition.  The Wolves came away with the win, but battled a Trinity team that refused to give up easily.Trinity got the scoring started, but West quickly pulled away to a 7-1 lead, helped primarily by the shot blocking of senior Melanie Vujovich, who recorded 3 blocks to start the game.  Trinity fought back to within four, but that was the most they saw of the Wolves in the first set.
After another Vujovich block plus a pair of Olivia Rusek kills, Niles West opened up their lead to 8 points before Trinity called a time out at 16-8.  Niles west went on to reach 22 before the Blazers found their fire.  They went on an 8-2 run, but there was not much else Trinity could do, and the Wolves took the first set 25-16 on a Rusek kill.
In the second set, Trinity kept things close.  Following scores from Vujovich, Rusek, and Emily English, the score was 5-2 Wolves.  Once Trinity stopped making careless errors, it showed.  The Blazers took an 11-9 lead and seemed like the superior team for a good part of the second set.
After taking a 14-13 lead though, the Blazers put out their own fire to cries of "You can't do that" from the student section.  After an ace from Felicia Phan, the Wolves increased their lead to 23-17.  Coming out of another Blazers time out, it was Rusek, and then Vujovich who scored to put the game away.
Niles West now moves on to its second ever sectional final, against rival New Trier.
When they play at their best, the Wolves are a force to reckon with on the court.  Head coach Stacy Metoyer noted some of their strengths.
"The girls executed their plays and played well from the start.  They spread out their offense and served the ball well to take Trinity out of their offense," she said.
Coach Metoyer knows that her team needs to keep their momentum up to compete with New Trier.
"The last two games they have really played like a unit and they need to continue that for Thursday vs New Trier," she said.