Skokie Public Library Hosts John Barrowman Book Tour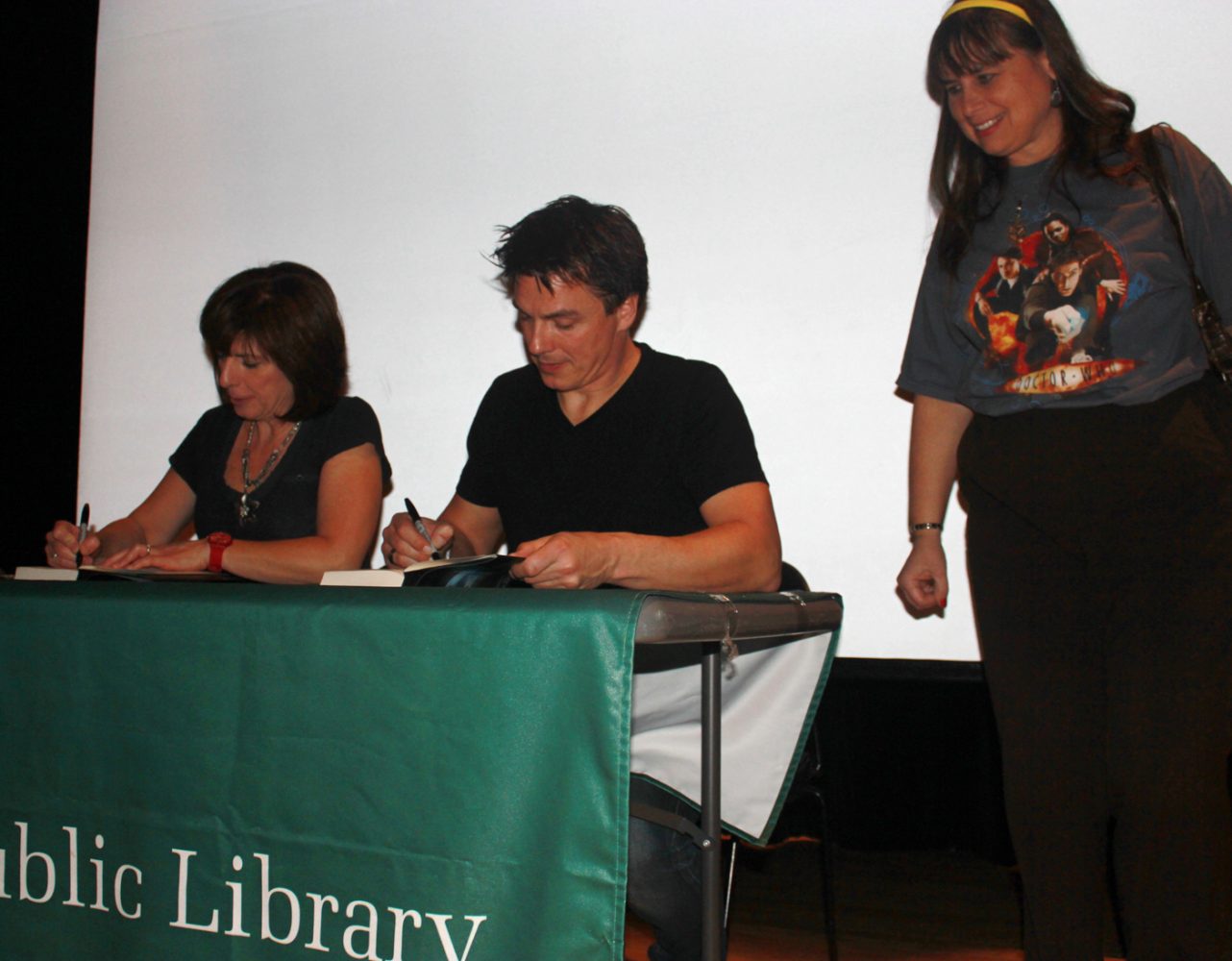 By Connie Lay-Ngo
November 5, 2012
The Skokie Public Library hosted a book tour for siblings John and Carole Barrowman's  new book "Hollow Earth" on Tuesday, Oct. 30. The book is about a brother and sister who live in London with their mother and discover that they have the powers to bring art to life and journey into paintings. The book is targeted towards children and preteens.
However, "Doctor Who" fans from everywhere attended this event to meet John Barrowman, the actor who plays the immortal Captain Jack in the series. The two Scottish comedic geniuses worked up the crowd with their bickering episodes and plenty of "Doctor Who" and "Star Wars" references. The NWN attended the event to learn more about the actor and his sister's work.
NWN: What was the inspiration for the book?
Carole: "[It began with] a sugar rush and the question 'What would be your superpower if you could have one?'"
NWN: What is it like working with your sibling?
Carole: "We have a great time together. This isn't an act. It's the great joy of growing up together. It's our fourth book together."
John: "Family is very important to me. I believe in family, and I have my own family values. Carole does all the writing and all the outlines. I am not gifted in a way to put words into form. I just know how to make money."
NWN: Is it hard to get a book published?
John: "It is hard, but because of the television work I've done, it opened doors right away. People made every dream come true through "Doctor Who" and "Torchwood," and now I'm helping my sister become a best-selling author. When your brother's famous, it helps."
NWN: When will you be back in the Tardis?
John: "I don't know have an answer, but if I'm asked to return, I promise to make time for it because I love Captain Jack's character."
NWN: Does work in "Doctor Who" help build your character?
John: "Yes, we used to watch Doctor Who on WTTW growing up. And if you want to see Doctor Who and Big Bird on WTTW, don't vote for Romney!"
NWN: Who is your favorite Doctor?
John: "My favorite is my one and only David."
Carole: "I love David Tennant!"
NWN: Who was a better kisser on the "Doctor Who" set? Billie Piper or Christopher Eccleston?
John: "Let's just say Christopher shaved. Billie didn't. They're both pretty good kissers."
Carole: "David Tennant is a better kisser! [wink, wink]"
NWN: Have you watched the new seasons of "Doctor Who," and if so, what do you think of the new Doctor and companions? Also, can you give a shout out to Niles West's Doctor Who Club?
John: "I have not been watching because I've been busy filming a new show. Shout out to the Niles West Doctor Who Club by the way! I catch up with what I can, so I can't say."
The Barrowmans will be continuing their tour through the Midwest and then in California. You can learn more about "Doctor Who" by visiting West's Doctor Who Club on Thursdays in the Lit Center classroom.