Breaking Dawn is Better than Expected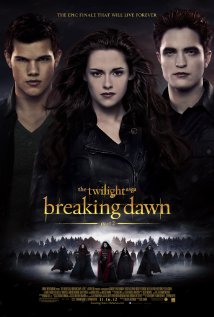 By Gabrielle Abesamis
November 20, 2012
"No measure of time with you will be long enough, but let's start with forever," (Meyer).
Forever. The word that reminds people of a failed promise their ex-boyfriends and ex-girlfriends made to them before their relationship ended. The word that people hope to have when it comes to describing the length of time they want to spend with their soul mates. To be more specific, it's the word that Edward Cullen uses to describe his expectations for his new life with Bella after their wedding in Breaking Dawn Part 1.
That word is the reason why fans worldwide have spent 141 million dollars to see "Breaking Dawn Part 2" before the end of its opening week. Yes, the hype to see the last movie of the Twilight Saga is simply because of one word.
After the cliff hanger from "BDP1", the fans obviously want to know. Now that Bella (Kristen Stewart) has delivered her half-human half-vampire baby named Renesmee (Mackenzie Foy) , will her and Edward (Robert Pattinson) actually stay together forever? Or will the Volturi, the Italian vampire royalty, kill at least one of them  in a battle, because they disapprove of Edward and Bella's creation? Let's not forget about the fact that Jacob (Taylor Lautner) imprinted (fell in an unbreakable force of love) on Renesmee who is less than a week old. And the Renesmee turns into an 8-year-old-looking girl while she's only actually a month old.
I'm not going to lie, the movie was pretty intense, and it answered pretty much all the questions someone could form after watching all the other movies. It was, hands down, the best movie out of the whole saga.
For one thing, Kristen Stewart's acting has gotten a lot better. For the first hour and a half of the movie, she dropped her habit of making it seem like she's constipated, dying from the scent of bad odor, or has difficulty breathing. I'm not sure if it's her effort to portray that she's more normal as a vampire than she was as a human, but I'm pretty sure she had those awkward habbits in the past movies like "Snow White and the Huntsman," "The Messengers," and even "Catch that Kid." She played a very good wife and mother, but towards the end of the film, she spontaneously relapsed into her bad habit.
Robert Pattinson's acting didn't stand out that much to me. There were barely scenes with him and Renesmee, so he wasn't able to prove his ability to play the father figure very well. In the past movies, he was big because he was mysterious and romantic. Now that Bella's a vampire and they're married, there isn't much mystery and romance behind him at all. So his character doesn't give him a chance to stand out.
Taylor Lautner's acting was decent. He made it seem like falling in love with a girl – who wasn't even a teenager yet- wasn't creepy. In ways he was the big hero of the story and he played that part very well. I'm not saying that I approve, because I'm for Team Jacob, but I can really say that the teen actor has learned to control his excitement behind the screen. He seems more calm and professional now.
Director Bill Condon also did a great job with the special effects and music. From lighting to stage craft, costumes, and movies, everything was well done. It all set the mood of the battle scenes and dramatically emotionally scenes. There were even parts where the music made the audience jump. None of the battle scenes and emotional scenes were as capturing as the ones in last movie.
By the end of the movie, I was really sad to face the truth. I was sad to accept the fact that the Twilight Saga is over. Most importantly, I had to accept the fact that, unless I wasn't an immortal, then nothing lasts forever.
"BDP2" is rated PG-13 and is 115 minutes long.