Master Jedi Sci-fi Club has the Force With Them
By Mara Shapiro
February 3, 2011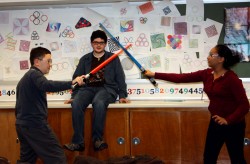 When you hear on the announcements at the end of a hard Thursday the words "The Master Jedi Sci-fi Club will be meeting in room 3185 at 4," do you ever wonder what the club is even about? Sure you know it's about Sci-fi, but what do you think the club does for a whole hour, considering it ends at 5? Just sit around and talk about Star Wars? In a way this is true because the club members really do like their Sci-fi movies, but there is much more to the club than just Star Wars.
The club began with sophomore Faris Karaman, and his dream to start a successful Sci-Fi club at West. Karaman, who is the president of the club, has always been interested in Sci-Fi, but he was truly inspired while volunteering at his old middle school, Lincoln Hall, during a summer school session before freshman year. A Master Jedi Sci-fi class is offered during their summer session, and Karaman became determined to start a club by the very same name at his high school.
The man who runs the class at Lincoln Hall is director of music and theatre Steve Kikeon. Kikeon was very impressed with Karaman's idea, which was great for Karaman, but would the students at West be just as impressed? No,  not right away anyway.
Once Karaman entered high school, he set out on making his dream a reality. He set up countless posters around the school, hoping both teachers and students would see them and want to join.  Karaman had a few minor meetings with students, but the club didn't really take off. Karaman tried and tried again, still looking for the right sponsor along the way.
Finally, Karaman got a legitimate sponsor in former assistant principal Ryan McTague. Unfortunately, McTague left to become the principal at North, so the club was left sponsorless yet again. Karaman continued with his search and talked to many of his teachers yet again. Still nothing. Karaman continued with his posters and made a group page on Facebook to promote the club.
He would have to wait until his sophomore year to finally get his sponsor in the form of John Hasemeyer, the assistant of the assistant superintendent of the district. (Hasemeyer is married to math teacher Happi Bills.) Karaman made a final Facebook page inviting students to join, and many did. Karaman finally made his dream a reality.
"I was inspired by Faris' vision to create the club. I'm 42 years old and still want to be a Jedi myself," Hasemeyer says.
Today the club has almost 20 members, including boys and girls from all different grade levels, who meet in room 3185 every Thursday. Even though meetings don't officially start until 4 because it takes awhile for Hasemeyer to get to meetings, most students arrive at 3:30 to have light saber duels or do homework and eat.
The common bond in the club is the love of Sci-Fi, but Karaman says that even if you don't like that genre, you can still join and are welcome to. There is a catch with joining the club, though. Every new member has to fight an old member in a light saber duel, and duels are not taken lightly. The duels happen in the back of the room, with the two fighters wearing protective goggles. Karaman, being the president, is the judge and takes his job seriously.
On the day that I visited with the club, he patiently but firmly officiated an exciting duel between junior Brandon Mueller and sophomore Kim Huynh. The fight quickly became intense as Huynh twirled her saber at Mueller, and in the end won. Even though the duels may seem scary, there is a lot of laughter and smiles in the room. I can, however, see why she is the resident duel queen of the club. Huynh likes the club, but feels that there could be some improvement.
"[An improvement would be] to do more. We just talk about news," Huynh says.
News is a big part of the club. Karaman makes an agenda every meeting. Today's reads Music, Kikeon, 2011 plans, and lastly have fun.  Karaman stands in front of the group in his Star Wars shirt and discusses his plans for about 15 minutes.
You might be wondering what Karaman meant when he wrote Kikeon. It turns out that I was lucky enough to meet the man who started the whole idea for the club, Lincoln Hall teacher Kikeon. He came to visit the club and what he brought with him was unbelievable. He had $100 light sabers with realistic sounds and glowing neon colors, and an R2D2 robot that can obey up to 350 commands. The club, myself included, watched with amazement as we quietly ate our popcorn: the club's snack for the day.
"I promised[Kikeon] I would make [him a club]," Karman says.
So what does the man who inspired the club think?
"I think[the club] is fabulous…Faris was such an integral part of our club in Lincolnwood," Kikeon says.
The club members agree.
"[I joined] just for the heck of it. I like Sci-fi," says sophomore and head photographer of the group Maricar Tamayo.
"I've always been a fan of Sci-fi movies and the club needed a good cameraman and tech person," Mueller says.
"…I like making movies and I absolutely love Star Wars! So I joined[the club]… and I like the people in it," sophomore Stephanie Swanson says.
Karaman successfully brought a class from his old middle school to become a club at his high school. The members are full of wonderful ideas about Sci-Fi, including making Sci-fi related movies around the Chicagoland area. Karaman says that every group member will have a part of every movie.
The only problem with the movies, and the club in general, is fundraising. The club is not sponsored by West, so all the money is coming from Hasemeyer and the members. But if Karaman has shown any trait in his life, that trait would be determination. You know that in the end Karaman and his members will get the money the need to make the club bigger than it has already become.
Now that you've learned the story behind the Master Jedi Sci-Fi club, you can check out a meeting or two.  Karaman encourages everyone to join the club even if they're are only interested in light saber duels and watching movies.
"Everybody here is welcome. When we walk in here we're all Sci-Fi fans and we treat each other with respect," Hasemeyer says.