Rosenberg Steps Up to the Plate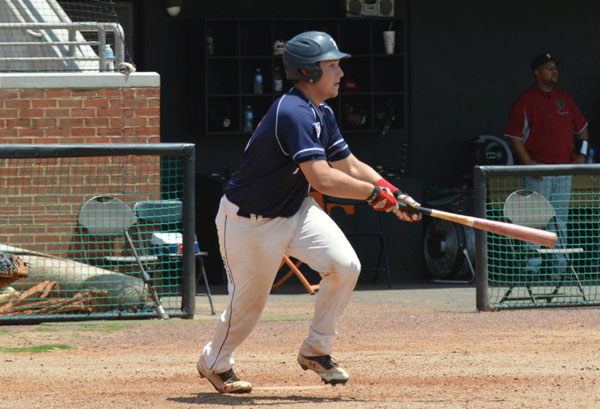 By Danny Thompson
February 27, 2013
There's a man on first and another up to bat. Niles West senior Seth Rosenberg sits behind home plate waiting for the pitch. The pitcher throws, and the man on first makes a break for it. In the blink of an eye Seth fires to second, and the runner is out. Pop time: under 1.9 seconds, a new personal best.
"For those who don't know, pop time is the time from when the baseball hits the catcher's glove to when it hits the second baseman's glove. Within that time the catcher has to catch the ball, get up and throw it," Rosenberg says.
Rosenberg started playing baseball around the time he was seven or eight and hasn't stepped out of the batter's box since.
"Growing up, every kid was playing little league. As a little kid I played on a t-ball team coached by one of my friend's dads, and from that point on I just loved it. I've been playing ever since."
Rosenberg catches for Niles West's team that was successful last year and is looking to build on that success.
"I think that Niles West is going to come back strong this year. We had a great season last year, and I'm hoping to pick up where we left off," he said.
For Seth, this means continuing to work on his speed both on offense and defense. In order to improve, he's been working outside with a personal trainer.
"My greatest challenge in baseball was my speed. I used to be very slow, but for the last couple of years I've been working with a speed trainer named Mindee Epstien at Tip Top Training, and she has really helped me transform my running technique and has gotten me a lot faster. A player can have all the natural talent in the world, but if he doesn't focus it and practice it to make himself better, it's a waste."
In practice, Rosenberg likes to joke around with his teammates, provided he gets his work in. During games though, one will see a look of determination on his face. Winning is what matters to him the most. He's won a lot in his career, with his biggest ever victory coming in a game for the national championship. Facing teams from Texas to Tennessee, Rosenberg's Top Tier team came out on top.
Rosenberg's drive to succeed comes from his dad, who tells him to give his all.
"A quote that I try my best to live by is from my dad. He always tells me, 'If you try your best and you fail, then you can look back on your life with no regrets.' Basically his message is to go through life giving it your all in everything you do so you don't wake up one morning and think about what could have been."
But what goes into winning? Practice. Rosenberg's hard work pays off on game day when all his practice allows him to react with speed and precision on both offense and defense.
"Although this might sound a little counterproductive, when I'm batting, I try not to think at all. As a batter you have a split second to decide if you are going to swing or not. When I'm up to bat, I just react. I know that all the work I put in at practice and extra work outside of practice is for that moment," Rosenberg said.
Rosenberg's training and self-discipline is paying off as colleges take notice–Rosenberg plans to play baseball at the University of Rochester.
"My dream, as well as almost every other boy growing up, is to play professional baseball. It would be an absolutely amazing experience. I'm going to play baseball until someone tells me that I'm not good enough to continue."