A.C.E. to Host Student vs. Staff Basketball Game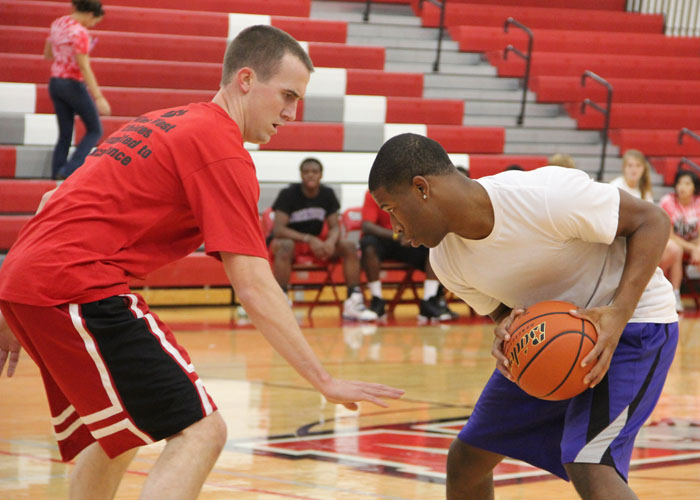 By Mara Shapiro
December 6, 2012
A.C.E. will hold a student vs. staff basketball game Monday, Dec. 10 at 7 p.m. in the Contest Gym.
Students who want to participate should fill out the form sent out by A.C.E. sponsor Nicole Reynolds to every student's school email account and return it to her or sign up in the student commons or at A.C.E. sponsor Richard Costante's desk in the main office. The form must be turned in by Friday, Dec. 7.
Reynolds feels that the game will combine the competitiveness of sports with a charitable cause.
"[We are holding this game] because playing anything students vs. staff is fun. And it's for a good cause," Reynolds said.
Senior A.C.E. president Monika Sosnowka believes that the game will be a great way for students and staff to interact outside of the classroom.
"It's a fun way to get the teachers out of "teaching mode," and it gets the students involved," Sosnowka said.
Senior A.C.E. member Shana Nissan feels that students should come, if not to participate, to donate a toy for the toy drive.
"Students should attend because basketball is fun, especially when playing against the teachers. If they're not interested in athletics, come anyway! The toys we receive from participants and spectators go to a great cause: Toys for Tots," Nissan said.
Students should wear white to the game; staff members will be wearing red. For those who wish to come play or support, a toy is required for participation or admission. In addition, T-shirts will be for sale for $5.
Sosnowka agrees that students should come support their peers in trying to take down the teachers.
"Students should come because, I mean, who doesn't want to try and take the teachers down? Apparently, they have gone undefeated in all of the student vs. staff events hosted, and we need to break their streak," Sosnowka said.
"They should come watch to see if the students might actually win for once… and to donate some toys! [It] builds school spirit, and it is fun," Reynolds said.