Cultural Round Table to Kick Off International Weeks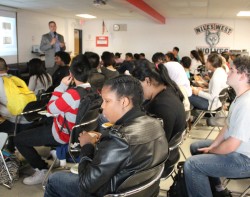 By Rebecca Yun
February 4, 2013
Niles West is holding a Cultural Round Table discussion  to promote the celebration of District 219's diverse ethnic community. This year's question is:  "How has your parents' native language not being English affected your learning and experience at Niles West High School?" which addresses the more than 50 percent of Niles West students who do not speak English when at home.
The Round Table takes place in the student activity center from 3:45 until right before the 5 p.m. bus, but students are welcome to stay past 5 p.m. to continue the discussion.
"The purpose of the cultural round-table is to foster dialogue around the challenging issues related to living in a diverse community.  In addition to celebrating our diversity, I believe it is important that we talk honestly about how we can support each other and address matters of difference that can cause misunderstanding," principal Kaine Osburn said.
In the past, facilitators for Cultural Round Table came from the MOSAIC Group (Fall 2012) or from the Assyrian Community (Spring 2012) or from the ELL Center.  This year it will be Osburn and club sponsor, Jasminka Jukic, and other staff members in addition to students.
"I just hope students find ways to continue the dialogue with their peers and other Niles West Staff members," Osburn added.