'Teenage Dream' Doesn't Go 'All the Way'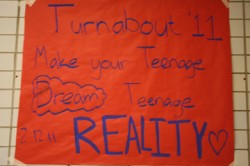 Due to a faculty complaint to principal Kaine Osburn, the Turnabout theme of "Teenage Dream" has been changed to "Not Just a Dream," upsetting some students who say the school is sending mixed messages.
The lyrics of Katy Perry's song "Teenage Dream" is said to be inappropriate for high school students. One verse states, "We drove to Cali/ And got drunk on the beach/ Got a motel and/ Built a fort out of sheets/ I finally found you/ My missing puzzle piece/ I'm complete."
"The lyrics are pretty inappropriate for a high school [to use as a] theme for the dance," said student activities director Jessica Ogulnik.
On Wed. Jan. 5, the NWN posted to their Facebook wall, "Do you think 'teenage dream' is offensive for turnabout?" The feelings of the student body were displayed within the 33 comments on the wall post.
"As a senior, I have come to realize that the school is constantly holding and enforcing double standards. We read books with incest, rape, murder, watch movies with nude scenes and are forced to take a class that essentially teaches us how to get and use condoms, dental damns and birth control pills. (Health)," posted senior Mikko Jimenez on the NWN Facebook page. "It is expected that we are mature enough to handle these subjects and most students are. And yet, we are not allowed to use a song with lyrics like 'Lets go all the way tonight?' That is absurd. I'm not saying the song isn't suggestive because it is, but since when is that news? If we are old enough and mature enough to read about rape and incest, watch Scarlett Johansen naked, and put condoms on a fake penis named Richard in health class, believe me, we can handle Katy Perry."
Some students, however, disagreed with comments like Jimenez's.
Sophomore Jason Lupas commented that the song is "completely inappropriate" and asked to "ban the song plz."
Sophomore cabinet members said they were upset with the change in theme.
"I think that it is redonculous that we had to change the name," said sophomore Amy McBride, a member of the cabinet.
"We were a little disappointed because we liked the way the theme flowed with the girl's perspective," said sophomore cabinet president Lyba Zia.
The theme of the dance was changed to "Not Just a Dream," which has no relation to Nelly's song "Just a Dream."
"The sophomore cabinet wanted to keep the dream theme," said Ogulnik.
"We didn't want to change [the theme] too much [due to] colors and decorations planned," said Zia.
Regardless of theme for Turnabout, the sophomore cabinet is still expecting a good dance.
"We realized it's just a title. We're still working hard on the dance," said Zia.
Jayna Shah contributed to this article.