Winter Sports Update
By Nick Goldwyn
January 19, 2011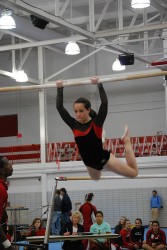 Girls' Gymnastics
The girls' gymnastics team is waiting. Waiting for the opening of their new gym. The gym that created so much controversy around school at the beginning of the year, with talk not only about when it would open, but also about how it was displacing sports.
The girls' team has been waiting. For their gym. The gym that was promised to be open by the time school rolled around, the same gym that had faulty walls put up and its promised opening date pushed further and further back until it was promised to be open by the summer, long after the girls' gymnastics season was over.
What you the fans don't have to wait for, the girls' gymnastics season. Just like all of the other winter sports featured in this piece, the girls' gymnastics season is well under way, and gym or no gym the girls are off to a great start. The team has won four of its first six meets against individual schools, and took second and third place finishes at the two larger meets so far this year.
As varsity coach, coach Foerch put it, "we have a lot of returning talent, and hard working young [team members]." "I see us being able to go to regionals even advance to sectionals, that would be great."
The girls' team (led by seniors Callie Sher, Emily Fung; and juniors Jenny Marin, Susan McNichols and Kelly Sanks) is beginning to hit their stride and is reaching their full potential. As for the advancing to sectionals thing, you're just going to have to wait a little longer.
Boys' Basketball
Bob Williams is the director of math for Niles West, so it should have been no surprise that he likes to split things up into steps. If you want to be good at math, you have to know the steps to complete the problem. And if you want to have a successful basketball team you need steps to get to that "solving" point as well.
As Coach Williams said when asked about how good the team was "we're really optimistic, this is my second year here, and I think we are starting on step two, we hav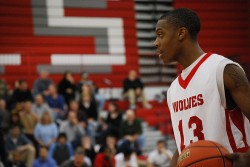 e great quickness, athletic ability and a great deal of skill."
Skill so evenly spread throughout the team, he couldn't pick the best player. " A lot of guys are the best player maybe [Senior] Dante [Logan] is the best ball handler, and [Senior] Tony Pierce is the best shooter, and maybe [Senior] Lauris Herth is our most athletic guy," said Williams.
To start the season, the wolves began 6-0 and beat North at North, a start that some people didn't see coming. Not coach Williams though "our goal has always been to win conference, and I think we have a legitimate shot at winning conference this year"
The wolves, led (not only by Dante, Tony, and Lauris) but also by seniors Ramsan Younatham, Patrick O'Connor, and junior Alek Biser are well on their way to winning conference, all they need to know is the next step.
Wrestling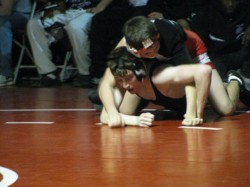 Think back if you can to before winter break. Yes, I know that's hard to do but try, try to remember anything at all about the winter pep assembly. You are probably remembering the cheerleaders cheering or the girls' basketball team doing the dance from high school musical or something like that, but what I'm thinking about is the show the wrestling team put on.
Try to remember: Basically, they brought out the varsity wrestlers introduced them all, and then had each one have an extremely exaggerated match against a tiny underclassman wrestler, which eventually ended in all the varsity wrestlers picking up their sparring partner in an elaborate way and then dropping them to the mat. The crowd loved every second of it (including when big red squared off against a guy in a tiger suit), and the wrestlers enjoyed it too, laughing and joking around about it all, even during their so-called "matches."
Varsity coach Anthony Genovesi has noticed the team is consistent with their demeanor. "The guys are enjoying each others' company as we have a lot of different characters blending together this season," he said.
The wrestlers don't joke around when it comes to matches though, as the team is firing on all cylinders and performing extremely well so far, (seniors David Shields, and Elias Shiheiber both have records of 16+ wins). And several other wrestlers have also had big contributions to the team, including senior Ameen Salehitzangi sophomores Vaughn Monreal-Berner, Steve Apple, Anthony Underwood, and Tommy Williams.
Coach Genovesi also said, "This team should finish in the top-3 of the CSL South and compete for a regional title."
Well, if the rest of the season is anything like how the team demolished those underclassmen and the tiger at the assembly, then finishing near the top of the CSL South and winning a regional title should be as easy as 1…2…3.
Girls' Basketball
If you have looked at the girls' basketball link under the athletics tab on the school website, you would have noticed two things. First, that there are a lot of  red Ws next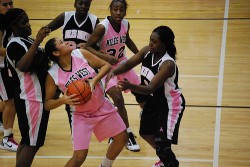 to the scores of each game the Wolves have played this season (12 red Ws so far this season), and second that the margin of victory for all of those games was pretty high (they beat Lake Forest 55-16).
Now, if you aren't familiar with the team, but have heard of its best player, in your mind right now you are probably attributing all of the team's success to junior Jewell Loyd. But if you know anything about the game, or the girls' team for that matter, you know their success is about more than just her. The team has stepped up on both the offensive and defensive sides of the ball, and time after time students (other than Jewell) have stepped up when needed, and shined.
This year's team is led by senior stars Nicole Moy, Lauren Dijohn, Casey Nakawatase, and–of course–(junior) Jewell Loyd. Since losing its first two games to open the season, the varsity team has been near unbeatable, holding teams to point values in the teens and putting up about 50 points a game. If the team continues to play at the high level they are playing at, with everyone on the team stepping up to make plays, were going to see a lot more red Ws next to game scores. And maybe even a trip to state.
Boys' Swimming and Diving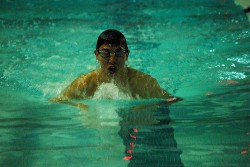 The boys' swimming and diving team did something they had never done in school history on Friday, Jan. 7: beat Evanston Township High School.
When asked about the teams' performance at Evanston, senior freestyler and team leader Konner Scott said,  "I felt honored to be a part of that. Friday was the first time the boys' swim team had beaten Evanston, so everybody from the team was pretty hyped. We realized about halfway through the meet that we had a realistic shot at winning and everyone used that positive energy to excel in the pool."
The team has been performing extremely well, as junior swimmer Stephen Giddens put it: "Well, there have been some drastic time drops in the season from everybody, not to mention our beat down of E-town… and all in all we are showing how fast of a team we are this year."
Varsity head Coach Dan Vander Jeugdt had this to say about the season so far: "We're working on getting faster. At this point in the season, we've done all the endurance work that we can, so we have lowered the volume, but increased the intensity."
When asked about his goals for the season Scott said, "Personally, I would love to make finals (top six) at state. I was 10th last year so I'm viewing it as a realistic goal. As a team, I think there are two or there other guys who could potentially qualifiy for state, and I'm hoping we can send so relays too."
Nate Shapmann contributed to this article.