Niles West Theatre Puts on a Festival of Student-Directed Plays
By Mara Shapiro
January 12, 2011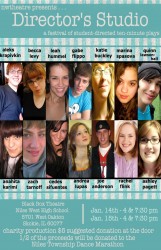 Starting Friday, Jan. 14 and ending Saturday Jan. 15, Niles West Theatre will be putting on The Director's Studio, a multitude of student-directed plays, in the Black Box Theatre.
There are a total of 14 different 10 minute plays, with seven different ones playing each night. The plays will be shown at 4 p.m and 7:30 p.m on both Friday and Saturday. There will be a total of 35 actors and 14 directors.  The price starts off with at least $5, as half of the proceeds will go to Niles Township Dance Marathon.
"Every two years we offer a class called Directing for Advanced Theatre. [The kids'] final exam is to direct a 10-minute play. This year we decided to feature plays written by students," said theatre Director Andrew Sinclair.
The directors who will be featured are: seniors Aleks Krapivkin, Becca Levy, Andrea Lupas, and Leah Hummel; and juniors Katie Buckley, Anahita Karimi, Quinn Lawson-Hall, Ashley Pagett, Cedes Sifuentes, Zachary Tarnoff, Marina Spasova, Joe Anderson, Gabriel Flippo, and Rachel Flink. They have been working all semester and had rehearsals all through November.
Sophomore Sam Elkin, an actress in one of the plays entitled Alice, said students should go and see the plays.
"People should come because it's just a really good experience and it shows all the students' talents. ….They worked really hard," Elkin says.
Junior Anahita Karimi, who is the director for the play Loyalties, agrees with Elkin.
"…It's important for people to see [The Director's Show] because it is our final  for the class and everyone has worked super hard; plus, there are some new  people making this their debut show, and it is going to be a great experience for them," Karimi says.
Five of the productions are "world premiers" because they are written by Niles West students and alumni.
"[There is] lots of diversity. [There is] a nice mixture of comedy and drama, some absurd, and true life. [There is] a play in there for everyone…. [and] you're helping Dance Marathon," Sinclair says.
"It's going to be some of the best work at Niles West," Karimi says.