UPDATE: Annual Review of Programs Summary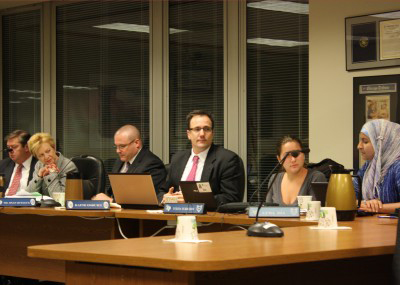 In an effort to keep District 219's policies and programs systematic and intact, the school board held its Annual Review of Programs meeting at the district office Monday, Dec. 17.
In addition to the new calendar for the 2014-2015 school year, several changes have been approved in the 2012-2013 Annual Review of Programs summary.
School District
The calendar for the 2014-2015 school year will include school starting during the second week of August and ending on Memorial Day. Final exams for first semester will be held before winter break.
"This change is better, because everyone else will get out early, and we'll also have more time to study," freshman Crystal Vu said.
Additionally, "parent- teacher" conferences will be changed to "students-parent-teacher" conferences, so that students will be involved in the process of discussing their academic performances.
Course requirements and prerequisites will be reexamined, so there will be a higher percentage of students taking advanced placement classes. The board's goal is make sure 50 percent of the students graduating in 2016 have taken at least one AP class.
The board will also expand the summer school program by creating a third semester. This will avail opportunities for summer training athletes and other students who want to take classes with more rigor in the school year.
Core area departments will offer students who are failing a class with 50 to 59 percent. To pass a class,  students can score a C or higher on their final exams.
Applied Science & Technology
The community preschool program at Niles West will be eliminated.
Dual credit from Oakton Community College will be offered in the Nutrition area.
English
In the 2015-2016 school year, the English and social studies departments will be combined into one department called the Humanities department, in an effort to improve students'  literacy skills.
A pilot program will be held for American literature classes where honors and regular students attend the same English class and honors credit will be an option. This will expose other students to more rigor and in the classroom.
"I think this change is better because you can get more credit. Honors classes are faster paced, so its not going to make that much of a difference," freshman Emily Butera said.
Sophomore English class 33-43 will be eliminated.
Fine Arts
In an effort to increase enrollment, the lab portion of studio art classes will be taken out of the program.
Mathematics
Mathematical Modeling will be available at Niles North. In the past, North students who have been interested in taking the class have been going to Niles West .
Physical Welfare and Athletics
The life guarding program will be eliminated, and the district will partner up with  local agencies and park districts that already offer certification.
Grading procedures will be changed to focus on fitness growth (heart rate monitoring, fitness tests, etc.)
Science
All freshmen must take biology by the 2014-2015 school year. ILS will be eliminated in the 2014-2015 school year, and physical science will be eliminated for next school year.
"I feel as though all students are capable of succeeding.  If they work a little harder, then they can manage biology or whatever science class they're taking," junior Hirrah Khatri said.
In order to graduate, all students must at least take three years of science classes ( biology, chemistry, and physics.)
"It's really limiting, if a person doesn't like physics, and wants to take something like anatomy, then they would have to double up, and that would make their schedule a lot harder," Khatri said.
Dual credit from Oakton Community College will be offered in anatomy and physiology, astronomy, gerontology, and stem inquiry and research.
Social Studies
A Humanities department will manage both English and social studies curriculum. This change has been made, so students can improve their literacy skills.
An honors option will be offered in a regular weighted American history class.