Heart Rates Monitored in Freshman P.E.
In an attempt to increase student activity and effort in gym classes, Niles West has reordered POLAR heart rate monitor straps for next year's incoming freshmen.
POLAR heart rate monitors have been used over the past decade at Niles West, but freshmen are now receiving straps to be kept permanently for $36. It is a requirement for freshmen to own a strap because of the frequent usage of them in P.E. class. Students are graded based on their percentage of time in their target heart rate zone to their total time of activity.
"The reasoning behind [heart rate monitors] is that this is the most accurate and objective form of grading a P.E. teacher can utilize. It's all based on individual performance so each student will receive the correct grade for their own performance," physical welfare director Joaquin Stephenson said.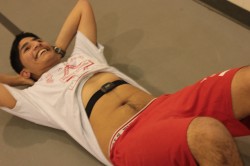 However, freshman Edward Thai disagrees with using them frequently in P.E. class.
"I don't like it cause it's annoying to wear and it's just annoying in general because sometimes it doesn't work or show the correct heart-rate," he said.
Another freshman, Seni Membreno, shares Thai's views on heart rate monitors.
"It's so weird putting it on your chest because it feels all weird and uncomfortable. It's bad because it doesn't work right most of the time," she said.
However, sophomore Mussa Siddique has a different perspective on using the straps.
"They're good to use because they work, but I think gym teachers shouldn't use them frequently or give them to each individual. They should be given to specific students that are seen not trying hard so it could save the school a lot of money," Siddique said.
POLAR heart rate monitor straps require a watch or a cardio machine in order to display the student's heart rate.