Niles West Theater to Host "Director's Studio: A Night of One Acts"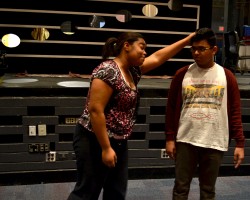 By Alexa Bits
January 8, 2013
Hang on for a minute...we're trying to find some more stories you might like.
Every other year, Andrew Sinclair's Director's Studio Class hosts two nights of a series of ten-minute shows in the Black Box Theater. Tonight and tomorrow night, Niles West's young directors will come together once again to present sixteen plays that make up "Director's Studio: A Night of One Acts." The settings range from a proctologist's office, to a nuclear fallout shelter, to a stoner's bedroom, while actors jump from one character to another.
The directors are juniors Daniel Bedoya, Carly Tennes,  Caleigh Havansek, Susy Montoya-Quinchia, Teresa Vargas, Lila Gilbert, and Surdeep Chauhan, and seniors Samantha Elkin, Isaiah Gardner, Sarah Goldberg, Becca Gratch, Mary Mando, Aria Caldwell, Chris Tyler, Sarah Meehan, and Merrick McWherter.
In the fall, the juniors and seniors of Sinclair's class began preparations for their final project. After being given a choice between a book of plays and a few student-written shows, they started the process of directing by holding auditions. Niles West students auditioned for each director, and many became members of multiple casts. While the Niles West Theater program juggled preparations for other shows such as Freddie the Frog, the directors and their small casts scheduled rehearsals in the rooms of the theater department. Everyone had approximately one month to work  on their lines, stage directions, and costumes.
Final preparations happened over winter break; dress rehearsals were held in the Black Box Theater, and each director had a chance to see their finished product.  These seventeen brief shows are going to reflect what the students have learned in the last four months, and, with so many different settings, themes, and characters to see, the audience is sure to stay interested.
"You can relate to it. You're friends are going to be in it, you're going to know your peers, you can actually see what [the directors do]," Gardner said, whose show is one of the 16. "You get to see the perspective of a teenage mindset… It's fun to see the difference between a play directed by somebody older and a play directed by somebody your own age."
"You can expect dramas, you can expect a lot of different things," Bedoya said. "You can expect the unexpected."
Tennes feels that students should come to support their peers.
"When you watch the One Acts, you are seeing the directors' vision[s], and five months of work come to life onstage. It is definitely worth seeing," Tennes said.
Sinclair feels that students should attend because there is something for everybody's viewing pleasure.
"There is a variety of comic relief and really serious stuff. Six out of the 16 plays are written by students and teachers at Niles West. It's truly Black Box Theatre entertainment," Sinclair said.
Elkin agrees with Sinclair.
"Why shouldn't[students come]? There is so much variety and something for everybody. And all the directors are so talented," Elkin said.
Tickets are $5. Half of  the proceeds will  go to Dance Marathon.
Mara Shapiro contributed to this article.