"Les Misérables" Movie Almost As Good As Broadway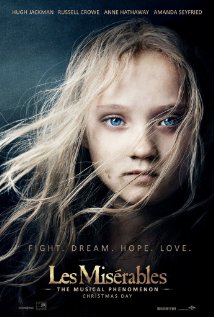 By Gabrielle Abesamis
January 8, 2013
On Christmas evening, the 7:30 pm showtime for Les Misérables at Regal Theatre in Village Crossing sold out. People of all ages and races, grown men with their wives and moms, and eight-year-old boys and girls filled the cinema playing the movie that was nominated for a Golden Globe (Best Motion Picture). Sure it takes a certain person to enjoy and appreciate a musical. There are costumes, dramatic exaggeration, and singing in almost every scene. But, there's a reason for all the award nominations.
In at least three parts of the movie, the majority of the people in the theater were blowing their noses, making sobbing sounds that sounded like they were doing all that they could to hold noises in, and singing along and choking back at the same time. Lets just say my scarf was dripping wet from tears by the end of the movie. No, the audience wasn't crying because they were dying of torture. They were crying because of the overwhelming brilliance.
Summary
Based on Victor Hugo's novel in 1862 , Les Misérables has been created into Tony Award winning Broadway productions, a couple other major motion pictures, and even a comic book for young adults.
In France, Jean Valjean (Hugh Jackman), a skinny and poor man who spent 19 years in jail is finally receiving parole. He went to jail for stealing bread to save his sister's sick son. After being semi-free, he gets invited to stay with a priest at a convent. The priest feeds him properly and offers his home to him for as long as Valjean wanted. Later on that night, Valjean steals all of the silver that the priest owns and flees the scene. The next day he gets caught by the police, and gets brought back to the convent to confront the priest about Valjean's theft. Surprisingly, even though the priest knows that Valjean stole his things, he tells the police that he gave them to Valjean as a gift. In fact, he even gives Valjean two candle sticks with silver stands, too. After the police leave the convent, the priest and Valjean make an agreement. Valjean realizes that the priest was giving him a second chance to make his life better. He promises the priest that he will take the silver that he stole to be an honest man with morals.
Eight years later, Jean Valjean is the mayor of a small town in France and owns businesses that employ his town citizens. In one of his shops works Fantine (Anne Hathaway), a young woman with long beautiful hair gets fired from the company, because they find out that she is working to pay for her sick child. In the mean time, Inspector Javert (Russell Crowe), one of the policemen who guarded Valjean during his time in jail gets stationed to work in the town that Valjean is in. He creates suspicion and realizes that the mayor of the town was the convict who broke his parole eight years ago. At the same time, Fantine sells her beautiful hair and turns to prostitution to support her sick daughter Cosette. Valjean meets her, falls in love with her, and promises to take care of her daughter at her last hour. So then, Valjean runs away again, so he can complete his promise to Fantine. The chase is on between Valjean and Inspector Javert. Valjean is able to get Cosette before Inspector Javert catches them.
More years pass, Cossette went from a five year old girl to a girl around the age of 16. Her and her "father" Valjean move to Paris, where they are the Inspector finds them again. Many years have passed and Valjean still carries the past with him. He fails to tell his "daughter" about it, but in the process of running away from Javert again, Cosette (Amanda Seyfried) falls in love with a French Revolution leader, Marius (Eddy Redmayne). When Valjean finds out, he puts his life in danger by trying to save Marius in one of the battles from the French Revolution.
By doing so, Valjean increases his chances of getting caught. If Javert catches him, he could either kill him at the spot or arrest him and take him back to jail.
Acting and Performance
Anne Hathaway (Fantine) isn't Mia from "The Princess Diaries" series anymore, or the pushover Andy from "The Devil Wears Prada." She's earned my respect as a serious actress because of her role in "Les Mis." Even though she was probably only in the movie for 15 minutes or so, she still made quite an impression. Her portrayal of a mother sacrificing everything to save her child was brilliant. There wasn't a dry eye in the house when she was singing "I Dreamed a Dream." It's no wonder that she was nominated for a Golden Globe (Best Supporting Actress).
Amanda Seyfried (Cosette) has the sweetest voice in the world. It's hard to believe that she went from playing a dumb high school girl in "Mean Girls" to playing the leading role in a movie that has potential to win awards. Even though she was playing a role that was about ten years younger than her actual age, she was able to portray innocence and completely had the audience fooled.
Hugh Jackman's (Valjean) singing skills were very impressive. X-Men's Wolverine can carry a tune after all. He went from super natural super hero to serious father figure and war hero.  Valjean's Soliloquy was probably one of the best parts of the movie. Another thing that amazed me on his part were the special effects that they put on him. At the start of the movie, he looked so tiny and frail, and later on, not only did they make him look healthy, but they made him seem a foot and a half taller too. After this performance, it's safe to assume that Jackman can take on any role. His Golden Globe nomination for best actor was well deserved.
Russell Crowe (Javert) did an unimpressive job portraying the villain in the movie. Even though he was the bad guy, he gave off an essence that still made everybody else love him. His role should have been more emphasized. Instead, he was just a character that could easily be brushed off and forgotten. As far as his singing goes, it wasn't too shabby. Sure he doesn't have the best voice in the world, but he could still hit the notes and stay on tune.
Eddy Redmayne ( Marius) was also great with his performance. His presence in the French Revolution battles was a perfect scene for him. The Seth Meyer look-a-like definitely won my heart both with his appearance and his acting skills. It would be a shame if his future in Hollywood did not turn out bright.
Sacha Baron Cohen (Thénardier) provided the comic relief in the film. I was grateful for his presence in the scenes, because it helped me get through with the rather serious and depressing parts of the movie. I couldn't help but think about his role in Borat! Seeing him in bright costumes and seeing him dance was one of my favorite parts too.
Samantha Barks (Eponine)  singing " On My Own" (only the most famous songs from the musical) was really, extremely very, completely, disappointingly disappointing. She recorded the song for the Broadway concert soundtrack, and she's sang it so much better before, too. I don't know how she could have messed up the most important song in the movie. Besides that, her acting wasn't very convincing. She should have stuck to Broadway, because the big screen, clearly wasn't a good place for her.
Pass or Fail?
For being a movie that has a running time of over two hours, it was pretty fast paced. Not only is the story a great classic, but it is also a great source for learning about the long-term effects of the French Revolution. Overall it's the perfect musical, and it definitely deserves to win all the awards that it is nominated for. The movie beats "Mamma Mia," "Flower Drum Song," and "The Sound of Music" any day. The all-star cast was a match made in heaven, and they have all showed clear talent after performing in the film. After reading the book, watching the Broadway productions, and the other two movies, it's safe to say that the 2012 remake has a high spot on the list. Take your mom, dad, grandparents, or date.
Run Time: 157 minutes
Rating: PG-13