Jersey Shore: A Lot Worse on Paper
By Jack Thornton
January 26, 2011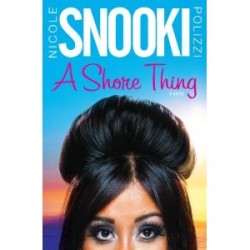 "Life is hard. But a pouf? That should be easy." So goes the philosophy of Snooki, the voice of our generation. The self-proclaimed "guidette's" wild lifestyle consists of clubbing and drinking copious amounts of alcohol. After two extremely popular seasons of Jersey Shore on MTV, the pint-sized reality star kicked off 2011 with another batch of episodes and her trashy debut novel, A Shore Thing. The most writing we've ever seen her do is last season's "anonymous note" to Sammi about Ronnie's cheating ways. Major drama!
As I write this, last week's episode of Jersey Shore is on. Snooki is scrambling down the boardwalk, completely intoxicated at midday, screaming, "Where's the beach?!" Standing tall at 4'9",  she is soon dragged away by law enforcement, drunk and disorderly. Her red hair is a mess, and JWoww is crying. She is clearly an alcoholic, the opposite of a role model. Yet in our country, Snooki is idolized, given a book deal, and paid $30,000 an episode.  I pause to contemplate, if Snooki drinks from 11 A.M. into the late hours of the night, how did she find the time to write A Shore Thing?
Littered with typos and grammatical errors, I almost believe that Snooki wrote this novel herself, but I wonder if her vocabulary includes words like "rhapsodizing." Whether she actually wrote this book or not, Snooki's voice is apparent on every lousy page as the two main characters, cousins Gia and Bella, search for love on the Jersey Shore. During their time at the Shore, the girls encounter fist-pumping juiceheads, revenge-driven bulimics, and a shark.
Gia is the embodiment of Snooki herself: short, full of life, just trying to have a good time. Her cousin, Bella, is her polar opposite. She towers over Gia and has little interest in meaningless flings with random men. Finally freed from an emotionally abusive relationship, Bella plans to live it up during her summer at the Shore. The two girls completely parallel Snooki and her bestie JWoww, right down to her infatuation with pickles.
Our two heroines soon realize that they are broke and need more money to enjoy all the morally questionable activities Seaside Heights has to offer. Gia finds work at a tanning salon ("Nothing says 'I do' like a spray-on tan,") and invents a trendy new tanning technique. Bella, on the other hand, manages to get a job at a local gym teaching fitness classes. Long story short, they find the guys of their dreams, but not without plenty of repetitive, mindless drama.
No one on this planet would ever crack open this book expecting brilliance. The top half of Snooki's face, featuring her famous pouf, is pictured on the cover underneath the author's name in all caps (an instant giveaway of its poor quality). Without Snooki's name, it would be difficult to distinguish this novel from any other book in its genre: trashy romance. Nevertheless, with A Shore Thing, she does exactly what she set out to do: sell books.
That's not to say I didn't enjoy reading it. While I found this novel to be quite superficial, that shallowness was somewhat endearing, almost charming, much like the author herself. While the TV show Jersey Shore is one of America's most popular guilty pleasures, A Shore Thing is more an ironic pleasure. It's unbelievably crass and smutty, yet surprisingly tough to put down, no matter how hard your brain begs for some intellectual stimulation. Fans of the show, even those who hate to read, might want to give this book a look. Those who wish to keep their IQs in-tact should steer clear of A Shore Thing.
(Special thanks to Isabelle Davis for giving me this book for my birthday.)