Meet Me in a Minute: Anna Nicolasin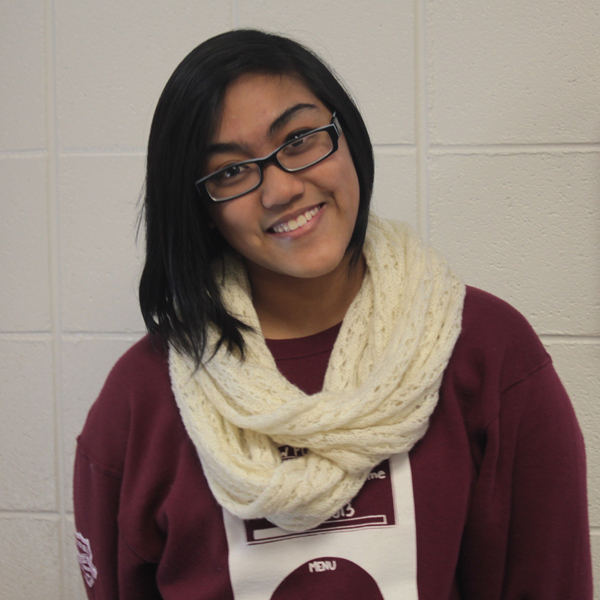 By Connie Lay-Ngo
February 8, 2013
When senior Anna Nicolasin is around, there is always music in the air. With a strum of her ukulele, her voice is summoned out of her as she fills the room with rhythm and melody. Nicolasin has been singing for so long she can't even remember the exact age she discovered her talent. She has put her skills to the test as she has been involved in West's High Fidelity, Guys and Dolls, and Gospel choir over the course of her high school career.
"Being in these groups is a way to connect to people that share my passion and showcase our talent," Nicolasin said.  "I feel more comfortable singing and performing in front of people now. I mean, I still get massive stage fright, but I have learned how to let myself go and put it all out there."
Not only does share her talent in school, but also on Youtube.
"I started [uploading covers on Youtube] my junior year and the thing that started me off was finally learning how to play the ukulele," Nicolasin said. "I'd always wanted to put things on YouTube, but I didn't like using instrumentals. The ukulele was the first instrument [I learned to play.] I tried playing guitar, but the only guitar in my house was way too big for my hands, so my oldest brother gave [my other brother] Josh his uke. [He] taught me 'I'm Yours' [by Jason Mraz] and I just got hooked. Eventually they just gave the uke to me."
Aside from music, Nicolasin is also participating in International Night festivities and will be dancing for Filipino Club, Chinese Club, and Korean Club.
"[Cultural clubs] are a great way to get to know people and see people of different cultures interact," Nicolasin said. "But I'm not going to lie, it's really fun, and it's a good way to get my dance fix."
Despite her busy after-school agenda, Anna still finds ways to juggle all her extracurriculars.
"It's kind of hard [to keep up], especially during I-Night and the vocal jazz festival that Guys and Dolls is performing in. They are gonna be on the same weekend. I kind of have to go back and forth between the three clubs as usual, and then I usually have practice for Guys and Dolls at seven, so it's after all the other stuff ends."
Nicolasin plans to get her GED at Oakton before transferring to UIC to possibly become a Social Worker.
"I'm going to miss the people at West." Nicolasin shared. "I know I'm going stay in contact with most of my friends, but it's really weird knowing that you can be around the same people for four years, whether you're close to them or not, and then all of a sudden you never see them again."
You can see Nicolasin sing and play her ukulele  in the Variety Show on Friday, Feb. 8 at 7 p.m. in the auditorium.