NWTheatre to Perform "The Importance of Being Earnest"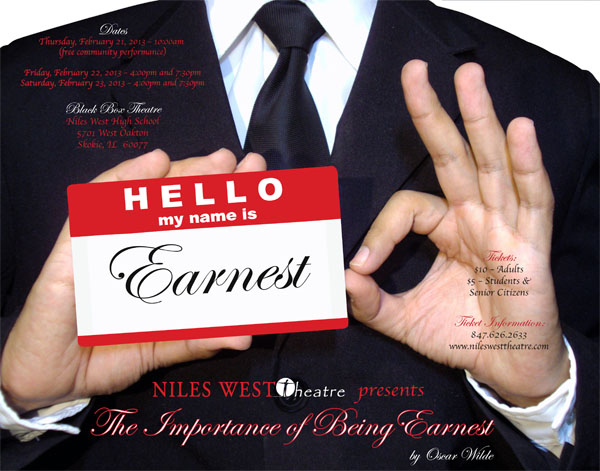 By Mara Shapiro
February 21, 2013
T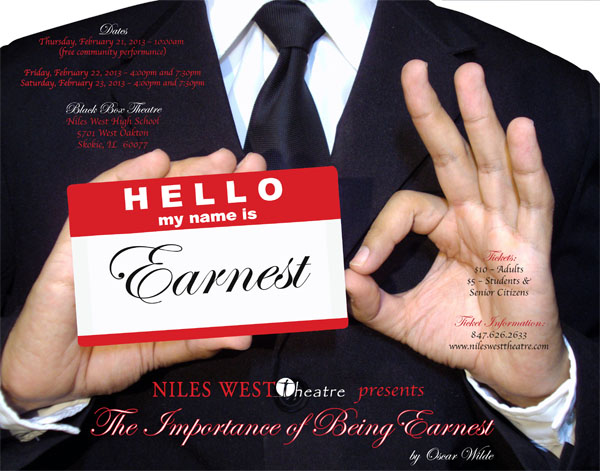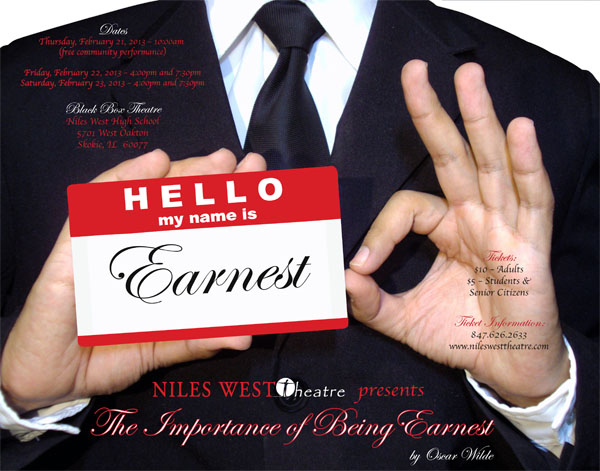 he thespians will be putting on the play "The Importance of Being Earnest" Thursday, Feb. 21 through Saturday, Feb. 23 in the Black Box Theater.
The production, based off of the play written by esteemed Irish writer Oscar Wilde, is a tale of love and mistaken identity.
Theatre Director Andrew Sinclair felt that the play is an exciting challenge for the actors and crew.
"Each season, we try to vary our season and present plays of different genres, styles and time periods.   We had not done a classic comedy set in the 1890s in my five years at West – or a play in which all characters have a dialect.  I felt that this would be a great challenge and opportunity for both the actors and technicians.  You can't simply go to the mall and buy these costumes or set pieces – it requires a level of research and build that we haven't gotten to do yet this season.  Plus, each actor is now working on mastering a standard British dialect; it is a fun adventure and challenge for everyone involved," Sinclair said.
Sinclair also feels that students will benefit from attending.
"I think this play provides great laughs for modern audiences.  Not only does it set the stage for great mischief and high-stakes humor (which makes for great entertainment,) but it also reminds us of a time when true humor was found in the language and wit or a character and not only in the extreme physical or gross-out humor of today.  I wish more modern playwrights could take their lessons from Oscar Wilde," Sinclair said.
"The Importance of Being Earnest" will start its run Thursday, Feb. 21 at 10 a.m. as a free community performance. It will continue Friday, Feb. 22 with two showings, one at 4 p.m. and another at 7:30 p.m. The play will end Saturday, Feb. 23, with a showing at 4 p.m. and 7:30 p.m. Ticket prices for students, senior citizens, and children are $7, and for adults the price is $10.
Junior Cameron Broderick, who plays Algernon, said that students should come for laughs.
"The play is a classic comedy. It's been around a while, and it's one of the funniest works. Also, it's all in British dialect, so if you want to see your friends as Brits, this is definitely a must-see. And it's a nice intimate show– the actors are close-up, and there's a small cast," Broderick said.
Senior Alex Wood, who plays John Worthing, agrees with Broderick.
"It's one of the funniest shows I've ever read. It's hysterical, and audiences will see new faces, especially in the female roles. It's really fun,  it's a small cast, and we [the actors] are working on British dialect," Wood said in his own British accent.
"This play is a classic and should be on everyone's "bucket list" of plays to see in their life.  If students haven't already studied it, the chances are high that they will come across this classic text in college.  It is great to see our talented actors and technicians work on a difficult text and see a play that was written over 100 years ago still be relevant today," Sinclair said.