Breaking News: Niles West Students Boycott Organic Life Lunches
In an effort to raise awareness on cafeteria food conditions, students from district 219 plan on boycotting the food served by Organic Life today during lunch periods; however, during third period (the first lunch period,) some students had purchased food from the cafeteria while others brought food from home and other restaurants.
A Facebook page titled "Lunch Strike" went viral last night with comments and pictures from both Niles West, Niles North, and students who have already graduated. Some photos showed bugs, mold, and hair on food that students claimed were from the cafeterias.
A hashtag, #LunchStike2013,  for Twitter and other social media sites has been created to record the event. An online petition created by sophomore Michael Wheeler was created two days ago and has more than 50 signatures.
Principal Kaine Osburn said the students' decision to take a stand is their right.
"In recent weeks a number of student complaints have been made to the administration regarding portion sizes in the cafeteria being too small.  Representatives from Organic Life are scheduled to meet with student government next week to address those concerns. At that meeting representatives from the Niles West and District administration will be present," wrote Osburn in an email.  "If students wish to express their dissatisfaction with Organic Life by boycotting the food service, that is their right.  We trust that students will not engage in such disruptive behavior that other students cannot obtain lunch in a safe environment."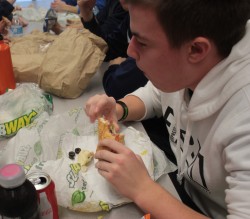 STUDENTS REACT
Many students said they were unhappy with the catering company.
"Anyone who has gotten sour cream from the stand knows that you can see hair strands in it," senior Michael Gonzalez said. "In terms of the strike, I participate every day. I just go home and eat. If you don't like the food, don't eat it."
"I think there has been a decline in the quality of the food. It's progressively getting worse. The staff and the cooks are great, and I'm not discrediting them, but the main food is a little too greasy," senior Sam Breitberg said.
"
"The price is too high. It's not proportional to how much food they give. The food strike is a good idea, but I think we're rushing into it without a plan." –senior Nikka Serrano "
Student cabinet and student government already have plans to meet with Organic Life.
"On Feb. 13 the class presidents and student government officers will have a meeting with Organic Life to discuss the serving problem. If you have any specific questions, suggestions, or comments, I suggest you contact your own class president through Facebook,email, etc," senior Justin Sia said.
Some students said the strike is not going to accomplish anything.
"The whole food strike is arbitrary because people don't take into account that other schools have no lunch or even worse lunches," senior Robert Marohn said.
"If there was a group of able bodied people that started a petition I will be in full support.  Right now, I am not for it.  Student Government will get involved and we will talk to Organic Life," junior Kyle McCaffery said.
[list type="arrow"]
[li]Did Your Tweet Make Our Storify?[/li]
[/list]To see live opinions, check out the NWN's Storify.
[list type="arrow"]
[li]Timeline: The History of Organic Life at West[/li]
[/list]
Video by Michelle Sproat
Timeline by Ivana Kosir