Meet Me in a Minute (Special Edition): Boaz Shields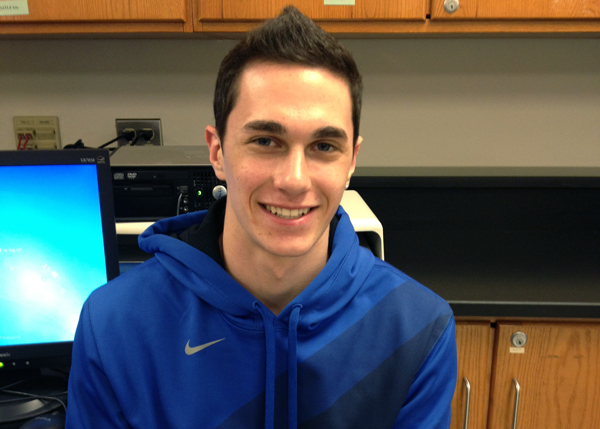 Hang on for a minute...we're trying to find some more stories you might like.
Editors' Note: This is the third in a series of features Niles West immigrants in celebration of International Weeks.
It's the late '90s, and a toddler, Boaz Shields, is running naked on the beaches of Tel Aviv, Israel.
"It was hot and always sunny," Shields said, who was born in Tel Aviv, Israel back in May 1996. He lived there for two years before residing in Jerusalem for the next three years.
Shields grew up as a middle child in a family of two older brothers and one  younger brother, who were also born in Israel. Oren, who's 32 and David who's 20, both  live in Israel, while Shields and his younger brother Yaniv live here in Skokie. His older brother, David, went to high school here at Niles West, but later moved back to Israel to join the military. Although Israel is a 12-hour plane ride away, Shields maintains a great relationship with his brother, but probably won't follow in his military path.
"I think it's really cool he's in the military, but I just wouldn't want to have to go through all that," Shields said.
One of the main reasons the Shields family moved to America was because of the requirement in Israel for 18-year-olds to join the military for a minimum of two years.
"My dad was in the army until he was 44, and he didn't want that life for us," he said. So they moved to America when Shields was around five years old to avoid that requirement. Even though Shields loves it here, he sometimes wishes that his family still lived in Israel. He remembers the environment of Israel being "…a lot more laid back…"
"Everyone hears how it's all bombings and fighting," he said. "But I remember just running around naked at the beach every day… Every once in awhile I'll see some conspiracy theorist on Facebook saying Israel is the real terrorists or they're really bad, and it kind of bothers me because they don't know what they're talking about."
There are a lot of misconceptions between the Israel that the media talks about and the Israel Shields remembers. All these headlines about bombings and conflicts in Israel isn't the country that Shields wants the public to see.
"It really seems like Israel is just trying to hold on to what they have and keep peace in the Middle East, although it may be hard to realize with all the fighting," Shields said.
This summer, Shields and his family are going to Israel because David and his fiance are getting married.
"I'm beyond excited. And according to his fiance, girls there LOVE Americans," Shields, a ladies man, said.
Besides Israel being a lot more laid back then America, Shields also noticed a difference between the girls that live in Israel.
"The women there are a lot tougher. When my brother visited, he brought his fiance with and at first she was really quiet and shy, but when she got comfortable she wasn't afraid to make fun of us or herself," he said.
Israel will always be a very meaningful place to Shields. Even if he only lived there for the first few years of his life, the country and culture will still stay a huge part of his life.
"I wouldn't want to live there, but I could definitely see myself visiting, like, every summer and bringing my family to show them how I grew up," Shields said.
Fun Fact: According to HubPages, "Israel is roughly half the size of Lake Michigan."